Are you ready to take your music to the next level?
If you are taking music lessons and are serious about pursuing a professional career in music, we can help you take the next step!
Services Offered
•  Live Performance Coaching
•  Songwriting assistance and mentoring
•  Educational Services including Music Publishing, Song Pitching, Performance Rights Organizations and more…
•  Team Management including all aspects of the industry needed to advance the career of a musician.
Virginia Cannon has over 16 years of experience in the music industry working as a consultant, talent manager, and trusted advocate for singers, songwriters, and performers. Cannon provides a wealth of information for musicians of all ages.
Virginia's positive energy provides a nurturing and empowering experience for each student. She provides honest and transparent information to clients, and parents of younger students. As well as recommending resources needed to move forward in the music industry.
Virginia has successfully coached several private clients for record and production deals.  http://www.galesburg.com/article/20141206/NEWS/141209814
Two of her clients have received "Hollywood Music in Media" Nominations, and were chosen out of 100 nominees to perform at the awards show in Hollywood. https://www.hmmawards.com
"VIRGINIA CANNON PRESENTS!"  was a popular singer/songwriter showcase in Nashville which she hosted for over 8 years. There, she brought hit songwriters and emerging songwriters together weekly. Her beloved shows continue in Tucson, AZ.
Virginia's experience working in the epicenter of the Nashville Music Scene has given her a unique perspective as an industry consultant
FREE 1 HOUR CONSULTATION!
($100.00 Value)
Expires May 15th, 2017
It's EASY to get started!
Call (520) 670-9162 or stop by the office to set up your free consultation
ARE YOU A SINGER/SONGWRITER WHO WANTS TO PERFORM LIVE AT MONTEREY COURT?
The Next Show is April 26th!
Reply to this email and send us a video or mp4 of your songs*
*Performers must be able to perform at least 4 original songs and accompany themselves or have an accompanist for this live show.
Check out these videos of Allegro Students from a recent performance at Virginia's Show at Monterey Court on March 20th, 2017!
CLICK IMAGES TO WATCH THE VIDEOS
78 New Students in March!
We extend a warm welcome to the students who signed up for lessons in March!
Ronan Armstrong
Gabby Martinez
Mackenzi Long
Jaden Lee
Nese Calik
Sophie Jones
Marlena Bloom
Aubrey Sandoval
Madeline Carney
Andi Rhys 
Nati Cruz-Lopez
Nicole Zhou
Trysten Church
Arnav Maharjan
Keegan Spencer
Charlie Erman
Melissa White
Alicia Geraci
Noah Gonzalez
Diego Martinez
Rina Tashima
Rina Tashima
Caspian Pixley 
Sophia Bolton
Robert Velasquez
Kairi Kamaal
Jeff Grey
Veronica Montano
Sophie Bolton
Anne Eddey
Eyren Huffman
Sophia Saenz
Sophia Saenz
Andres Islas
RE Islas
Jeff Ratje
John Pasadilla
Jackson Dziomba
Jannelle Lawson
Katie Hauser
Mckenzie Johnson
Jeff Hale
John Brown
Stella Faumuina
Dayan Marquez
Josue Renteria
Gabriel Contreras
Sarah Contreras
Diego Contreras
Fredrick Turner
Colin Selleck
Chad Yourgules
Nicholas Howdahl
Dominic Howdahl
Jonathan Benn
James Cavazos
Angie Kelsay
Jack Christman
Angelica Wicker
Evan Zorko
Andrew Miller
Mia Fetsko
Anderson Christian
Lilia Paraninfo
Maya Barnes
Rose Salazar
Adison Banchy
Parker Banchy
Noelle Maxon
Marcos Torrez
Nefertari Britto
Moshe Foster
Kirra Harrison
Lilia Paraninfo
Angelica Rosa

Congratulations to Selma Odoom, who has won a free month of lessons by checking-in to her lessons at Allegro in March!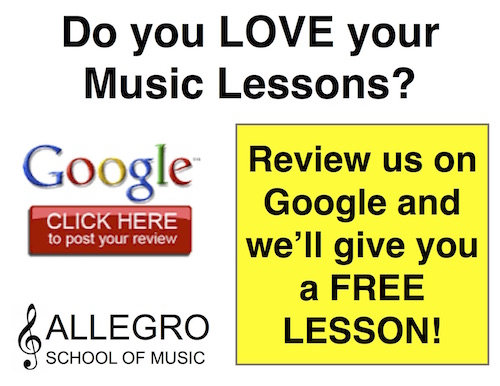 Laurel Corona March 14th, 2017
"Our daughter has been taking lessons with Allegro the past 6 months. She has a recital coming up in May and she is developing the techniques to be a confident and successful piano player. As we get closer to recital day she is feeling happy and excited. Devin has been a great instructor keeping us on a timeline with homework and how to practice at home. When we lost focus from hustle and bustle of life, there was a gently nudge back in the right direction and we have been back on track since, plus she is about to receive her first piano trophy and she can't wait!! Thanks Devin and Allegro!! Also white board for my 2 year old to draw on has been a great addition to the Northwest location!"
Thanks for your 5 star reviews!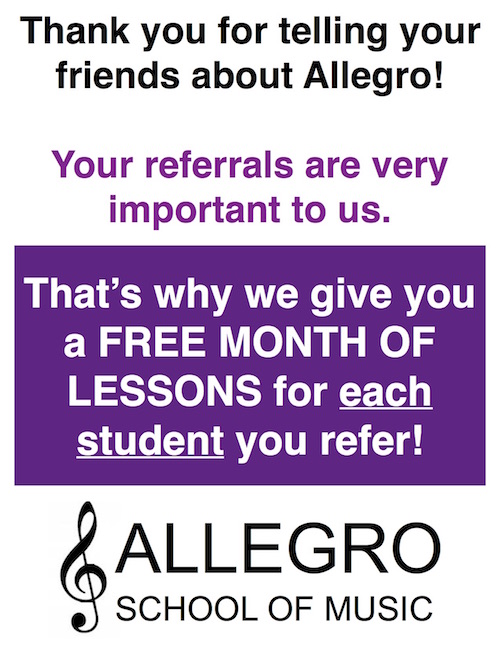 Refer a friend to Allegro, get a free month of lessons!
Our school is built on word of mouth. Thank You to the following students, families, and organizations who referred their friends in March.
Angie Feuquay-Kincaid
Norah Jacob
Jignya Patel
Marie Blanche Roundaut
Jackson Pena
Aliyah Asuncion
Gail Frank
Manzanita Elementary
Trysten Church
Shiho Takeda
Guitar Center
Teachers with Waiting Lists
Many Teachers at both locations are Sold Out!  Lesson times are first come, first serve, so get your lesson time today!
Many Teachers are SOLD OUT between the hours of 2-8 p.m.
PIANO
David – SOLD OUT
Devin – 2 SPOTS LEFT
Louisa – SOLD OUT
Diana – SOLD OUT
Lori – 2 SPOTS LEFT
Pamela – 2 SPOTS LEFT
Juan – 1 SPOT LEFT
Mary Ellen – SOLD OUT
Shiho – 2 SPOTS LEFT
GUITAR
Angel – 1 SPOT LEFT
Shawn – 3 SPOTS LEFT
Aaron – 3 SPOTS LEFT
Sean – 1 SPOT LEFT
DRUMS
Damon – 1 SPOT LEFT
Tony – 2 SPOTS LEFT
VOICE
Ashley – 1 SPOT LEFT
Aubrey – 1 SPOT LEFT
Elizabeth – SOLD OUT
Kari – 1 SPOT LEFT
Laura – 1 SPOT LEFT
Lori – 1 SPOT LEFT
Here's How the Summer Works…
Dear Allegro Students and Parents,
Now is the time that many of us are making plans for Summer Travel and Vacations.  For your convenience and ease of planning, we've mailed you the schedule of Summer Make-Up Classes for May through September, 2017.  You may also pick up a copy in the office.
Here's how you make up lessons you miss…
Please select the classes you'd like to attend for the weeks you will miss due to Summer Travel and email or call the office so that we can sign you up.  Remember, you can start making up lessons for the weeks you'll miss before or after your trip!
Additionally, Skype video lessons are also available for students who are out of town for the summer.  Please contact the office for more info on Skype Lessons.
Finally, if you'd like to "sub-lease" your spot to a friend for the summer, please contact the office for details on how to do this.
If you have any questions about how to get started with Make-Up Classes, Skype Lessons, or Sub-Leasing your lessons for the summer, please stop by the office or give us a call or email.  WE ARE HERE SEVEN DAYS A WEEK TO HELP YOU.
Sincerely, 
Jaque, Joyce, Colleen, Meagan and Kristin
It's Recital Time!
We are collecting non-perishable food items as well as monetary donations at both schools for the entire month of May and at the student recitals on May 7th and May 21st!   Recitals are held at the University of Arizona School of Music, Holsclaw Recital Hall. 
Allegro Recitals are always FREE for our students and their families!
All we ask is that EVERYONE BRING A FOOD DONATION
TO ONE OF THEIR LESSONS IN MAY OR THE RECITAL!
Eastside Ribbon Cutting!
We had a blast celebrating the Grand opening of our New Eastside Location with Mayor Jonathan Rothschild and Tucson Hispanic Chamber President, Lea Marquez-Peterson
Our New Eastside Location offers Music Lessons in Piano, Guitar, Voice, Violin, Drums, and more, 7 days a week!  Call (520) 274-4977 or Request info  to get started today!

EASTSIDE
520.274.4977
eastside@allegroschoolofmusic.net
6979 E Broadway Blvd #119
Tucson, AZ  85710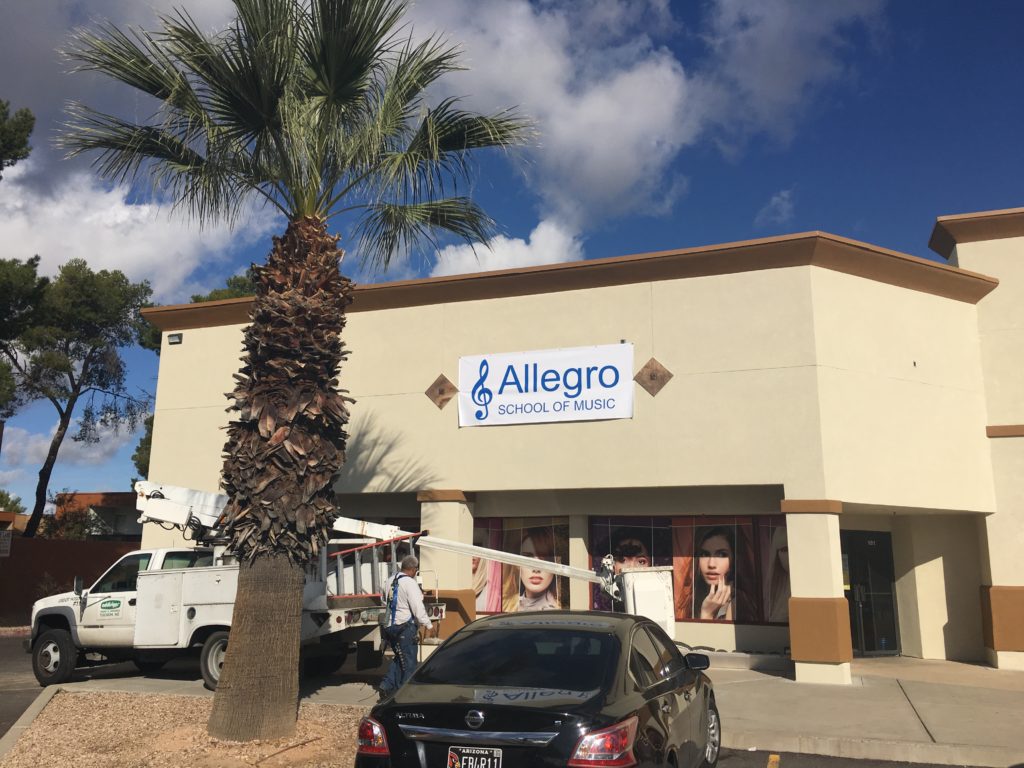 Neil A. Russakoff Memorial Scholarship
The Neil A. Russakoff Scholarship has been organized to provide funding for interested music students who wish to study at Allegro School of Music. Beginning in 2017, the scholarship will be offered to one student annually who exhibits a unique dedication to and love of music. During the selection process, consideration will be given to the applicant's financial need, work ethic, and musical talent. We plan to expand the Scholarship Fund and its outreach annually.
The scholarship seeks to honor and memorialize the life of Dr. Neil A. Russakoff, who died on September 23, 2016 of complications from bone marrow transplantation due to chronic lymphocytic leukemia.  Neil attended Allegro School of Music from 2002-2016 and studied the electric, acoustic and classical guitar. Neil enjoyed playing music from a wide range of styles: especially music by Doc Watson, Leo Kottke, Lynyrd Skynyrd and J.S. Bach.   Beyond his musical life, Neil was a respected pediatrician, husband, father, and avid sports fan, known for his gentle and kind spirit.
Neil continued to attend his guitar lessons during most of his 5 year battle with cancer.  His grit, work ethic and unwillingness to give up on what he loved is an inspiration that we will continue to carry with us.
It is this spirit of hard work, love of music, and integrity that we hope to nurture through the Neil Russakoff Scholarship.
2017 Winner- Kathleen Enriquez, Violin
*The deadline for 2018 scholarships is November 30th, 2017.  *Interested students may apply HERE
New Songwriting Lessons! 
With Laura Kepner-Adney!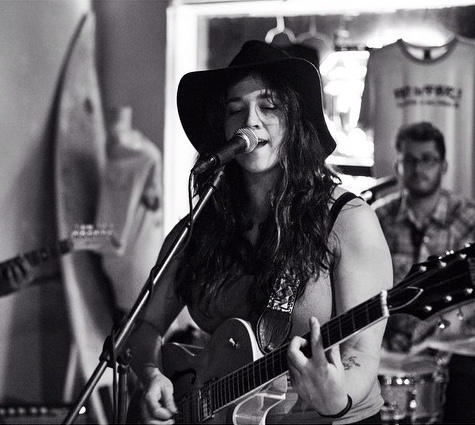 Are you looking for help on a song you just can't seem to get right?
Are you wondering how to build your first melody?
If the answer is "YES", songwriting lessons are for you!
Ages: 13 and up
Required experience: a minimum of 2 years of instrumental lessons (other than vocal lessons), OR a team of 2 with one vocalist and one instrumentalist.
Description: Songwriting students will learn the basics of song craft, then delve into its subtleties and intricacies.  Ideal for self-driven individuals 13 and up, these once-a-week lessons will guide students through a first writing experience OR help improve intermediate skills.  All genres welcome!  We focus on song form, chord structure, melody, harmony, figurative language, and exercises to help jumpstart the process.  Students will learn the value of recording and studio-preparedness and will be offered the option to make simple multi-track recordings in lessons.  Sequential lessons will help each student build a catalogue of songs.
It's EASY to get started!  Just call the Foothills Office at (520) 670-9162


Celebrating Student Achievement The Musical Ladder System®
Allegro School of Music is the only music school in Southern Arizona that gives students the opportunity to earn special color wristband bracelets (kids and teens love them!), trophies AND certificates for passing musical tests with the Musical Ladder System®. No other music schools offer trophies and certificates.  At Allegro, we inspire our students with smiling faces by giving them full color, really cool "Musical Ladder System®" wristbands that they can show off to their friends.
More importantly when our students have a test coming up, they practice more, their parents are proud, their teachers are proud, and everybody wins!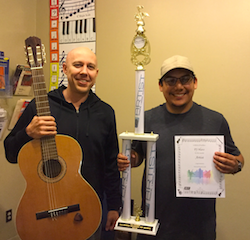 Wind Instrument Lessons are now available!

We are excited to announce that we are now offering music lessons for Brass and Woodwind instruments at Allegro School of Music!
This includes:  Trumpet, Cornet, Horn, Trombone, Baritone Horn, Euphonium, Tuba, Flute, Oboe, Clarinet, Saxophone, Bassoon, and Recorder.
If you would like to get started with a Brass or Woodwind instrument, please contact the office. 
Lesson spots are first come first serve, and there are currently a limited number of lesson times!
Sunday Music Lessons!
We know your schedules are busy. That's why we offer more lesson times than any music school in Tucson.
We offer quality music lessons in Piano and Keyboard, Guitar, Banjo, Mandolin and Ukulele, Bass, Voice and Singing, Violin, Viola, and Cello, Acoustic and Electric Drums, Trumpet, Trombone, Tuba, Flute, Oboe, Clarinet, Saxophone and Recorder to students of all ages.
Hours:
Monday – Friday from 9:00 a.m. – 8:00 p.m.
Saturday from 9:00 a.m. – 5:00 p.m. 
Sunday from 9:00 a.m. – 5:00 p.m.
View the 2017 Calendar HERE
We have the Largest and Most Qualified Teaching Faculty in Tucson who will teach you the music you want to learn!
Allegro School of Music's Teacher of the Year, Shawn Kebler
Locally Owned and Operated Since 1999!
Allegro School of Music Directors, Joshua Brown and Jeff McKee