Congratulations to our International Competition Winning Students!
…and congratulations to their Voice Teacher, Katie Azevedo and Live Performance Coach, Virginia Cannon!
Are you interested in Performing in Local and National Events?
Sign up for Live Performance Coaching at Allegro this Year with Virginia Cannon!
Virginia's positive energy provides a nurturing and empowering experience for each student while providing LIVE PERFORMANCE OPPORTUNITIES in the community.
Virginia Cannon has acquired over 16 years of experience in the music industry working as a consultant, talent manager, and trusted advocate for singers, songwriters, and performers.
Her clients have received five "Hollywood Music in Media" Nominations.  Out of over 100 nominees, two of Virginia's clients were chosen to be two of the six nominees to perform at the awards show in Hollywood.  https://www.hmmawards.com/
Two of Virginia's clients auditioned for an acting/singing role for a Matty B music video competing with 125 other kids.  Both girls made it to the top 10.
Since arriving in Tucson, Virginia coached with two Allegro Students for a competition in New York City in July.  8 year old Leah Martin took 1st place in the singing category under the guidance of Allegro School of Music Vocal Coach, Katie Azevedo.  Virginia worked with Leah on her live performance skills and audition skills for the song.
"VIRGINIA CANNON PRESENTS!"  was a popular singer/songwriter showcase in Nashville which she hosted for over 8 years. There, she brought hit songwriters and emerging songwriters together weekly. Her beloved shows continue in Tucson, AZ at Monterey Court Café and Studios on the third Thursday of each month.
Available to Allegro Students for ONLY $125.00 per month for weekly, 60 Minute Sessions.
It's EASY to get started!  Just contact the office.
New Students
We extend a warm welcome to the students who enrolled in Music Lessons last month!
Archer Matika
Lila Matika
Aiden Peiro
Jack Fehrenbacher
Jazmyn Martin
Zelah Bautista
Scarlett Harris
Mike Dehn
Matthew Christianson
Abby Christianson
Case Metzler
Veronica Hunter
Javier Fernandez
Aidan Waite
Cassandra Sillick
Shannon McGuire
Shawn Bourgeois
Jonathan Niemiec
Chappell Bailey
Kate Bailey
Lexi Hutchens
Kaylee Carlson
Sloan Davison
Avery Kimbrough
Savannah Kimbrough
Nicholas Skitzki
Madison Utter
Ananya Kumar
Avaya Kumar
Joey Gallagher
Rebecca Zehngut
Paul Palladini
Noah Wang
Naomi Wang
Bob Locke
Adrian Rodriguez
Michael Anthony
Malachi Madrid
Matthew Rabb
Alexandra Case
Jack Graham
Richard Crouch
Azumi Valencia
Shinae Wegener
Maria Fausti
Jason Becker
Ian Cooksey
Liliana Castro
Corbyn Cleveland
Anjali Grivois-Shah
Nalani Tinnell
Lissette Aguilla
Carla Casler
Leah Pedersen
Wendy Fountain
Sarah Kate Barton
Curtis Williams
Honey Castellanos
Alyssa Adams
Bradley Gebhart
Lucas Staab
Joni Olson
Garrett Olson
John Hardy
Jaxon Goddard-Westland
Sophia Guinee
Gianna Gibbons
Janous Enriquez
Ryker Brown
Logan Brown
Joseaphina Hall
Ethan Matthews
Charmayne Floyd
Kaytlin Millette
Nashaya Madrid
Diego Valdez
Chase Hill
Sujittra Thaomor
Benjamin Yenderrozos
Andrea Reeder
Percy Manaog
Wade Johnson
Richard Charest
John Leach
Andrea Holloman
THANK YOU!
The following students, families and organizations referred their friends to Allegro last month:
Camila Castro
Hana McCormack
Amy Edelen
Max Englebrack
Lyra Waggoner
Leah Martin
Jenna Kimbough
Jeanie Lee
Instrumental Music
August Birthdays
Happy Birthday to our Students, Teachers and Staff who are celebrating a Birthday this month!
Jazmine Lopez
Jenna Little
Marco Covarrubias
Diego Caballero
Luke Johnson
Joseaphina Hall
Richard Charest
Alyssa Adams
Abby Martinez
Sophia Washburn
Kailey Petelo
Malia Sims
Gianna Gibbons
Chad Yourgules
Emilio Lizarraga
Karina Dozier
Fatima Sevilla'
Ashley Shi
Jake Alexander
Mary Innabi
Daniel Degrood
Achok Angui
Alissa Cuaron
Lauren Stombaugh
Joaquin Galindo
Grayden Rockwell
Abigail Acosta
Eli Askren
Jonas Olsen
Nati Cruz-Lopez
Morgan Spencer
Joseaphina Hall
Fabian De La Peno Montero
Sharon Hunter
Courtney Fitzsimmons
Jessica Van Volkenburg
Julia Caperon
Omar Rodriguez
Razan Alsheikh
Oscar Soto
Gavin Engreen
Eve Kpetehoto
Weston McNerney
Naomie Wang
Aiden Nicely
Gabriel Noriega
Thanks for giving us 5 Star Google Reviews this Month!
"My 10 year old daughter loves her piano lessons. Her instructor is great and very encouraging. We have only been going for 2 months and still have a lot to learn but making good progress for having no prior experience. All staff have been very friendly and helpful."
-Jennifer Green July 19th, 2017
"Our 6 yr old son is taking drum lessons with Dave and he loves it! Dave is fun, engaging, and a great teacher. Our son has progressed a lot in a short time thanks to Dave. I would fully recommend Allegro School of Music to anyone wanting to learn an instrument."
-Scott Owens July 21st, 2017
Thank You Damon, Harumi, Leslie, Efrain, Aubrey and Sean!   
Join us in celebrating six Allegro Anniversaries this month!
We would like to show our appreciation for  these teachers, who have a combined 14 years of experience teaching private music lessons at Allegro School of Music!
Damon Knepper, Drums – 4 Years
Harumi Hand, Piano – 3 Years
Leslie Naradikian, Piano – 3 Years
Efrain Ulloa, Piano – 2 Years
Aubrey Adams, Piano/Voice – 1 Year
Sean Gale, Guitar – 1 Year
THANK YOU
for sharing your passion, your skill and your dedication with our students!
Sad to see you go… We will miss you!
Back to School Music Lesson Sale!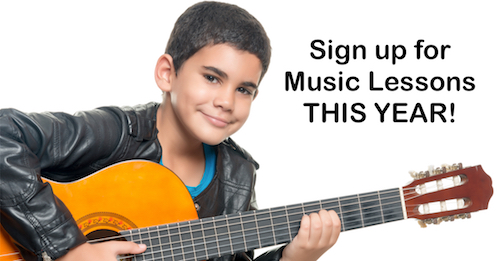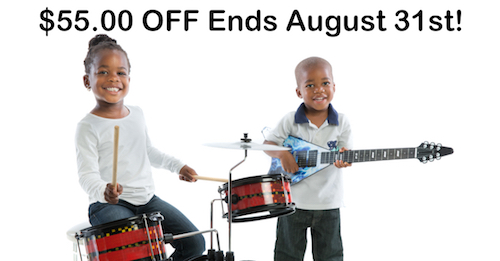 Is your child ready to rock?
Sign up NOW for September Rock Band Classes!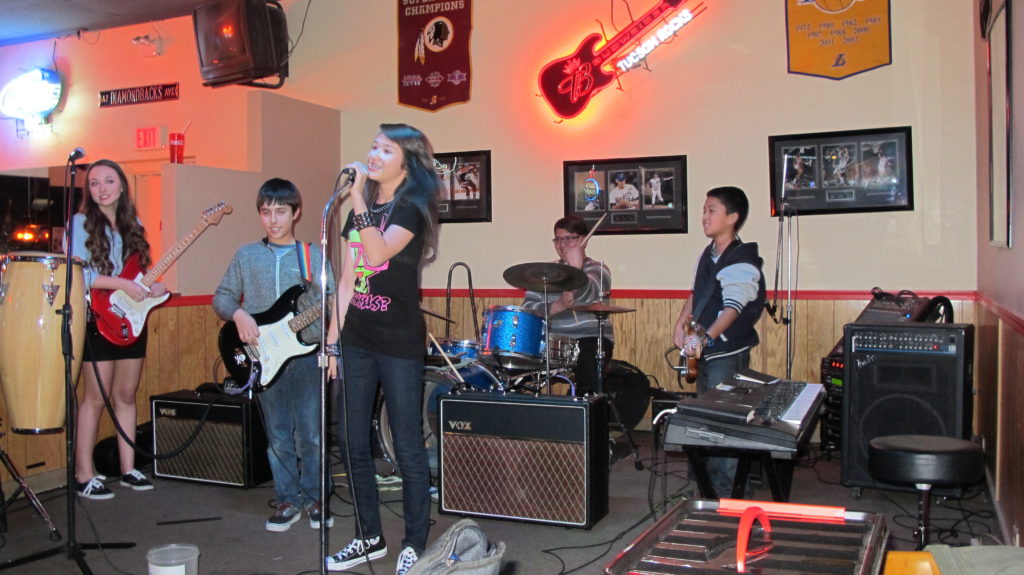 Allegro Rock Band Class students will perform in two Rock Band Concert events every October and March!
Rock Band classes are open to Allegro students ages 10-18 who are able to sing or play a few songs on their instrument. You must be enrolled in private lessons to sign up for Rock Band.
ROCK BAND  ($100.00 per month or FREE for VIP Fast-Track Students)
(4) additional hours of music training each month!
(2) Parent Open Houses/Performances every October and March
State of the art equipment
Professional rehearsal area with PA, Drums, Amps, and Keyboards.
Affordable tuition of $25.00 per 60 minute class.
LIMITED AVAILABILITY!
Neil A. Russakoff Memorial Scholarship
The Neil A. Russakoff Scholarship has been organized to provide funding for interested music students who wish to study at Allegro School of Music. Beginning in 2017, the scholarship will be offered to one student annually who exhibits a unique dedication to and love of music. During the selection process, consideration will be given to the applicant's financial need, work ethic, and musical talent. We plan to expand the Scholarship Fund and its outreach annually.
The scholarship seeks to honor and memorialize the life of Dr. Neil A. Russakoff, who died on September 23, 2016 of complications from bone marrow transplantation due to chronic lymphocytic leukemia.  Neil attended Allegro School of Music from 2002-2016 and studied the electric, acoustic and classical guitar. Neil enjoyed playing music from a wide range of styles: especially music by Doc Watson, Leo Kottke, Lynyrd Skynyrd and J.S. Bach.   Beyond his musical life, Neil was a respected pediatrician, husband, father, and avid sports fan, known for his gentle and kind spirit.
Neil continued to attend his guitar lessons during most of his 5 year battle with cancer.  His grit, work ethic and unwillingness to give up on what he loved is an inspiration that we will continue to carry with us.
It is this spirit of hard work, love of music, and integrity that we hope to nurture through the Neil Russakoff Scholarship.
2017 Winner- Kathleen Enriquez, Violin
*The deadline for 2018 scholarships is November 30th, 2017.  *Interested students may apply HERE
Wind Instrument Lessons are now available!

We are excited to announce that we are now offering music lessons for Brass and Woodwind instruments at Allegro School of Music!
This includes:  Trumpet, Cornet, Horn, Trombone, Baritone Horn, Euphonium, Tuba, Flute, Oboe, Clarinet, Saxophone, Bassoon, and Recorder.
If you would like to get started with a Brass or Woodwind instrument, please contact the office. 
Lesson spots are first come first serve, and there are currently a limited number of lesson times!
Sunday Music Lessons!
We know your schedules are busy. That's why we offer more lesson times than any music school in Tucson.
We offer quality music lessons in Piano and Keyboard, Guitar, Banjo, Mandolin and Ukulele, Bass, Voice and Singing, Violin, Viola, and Cello, Acoustic and Electric Drums, Trumpet, Trombone, Tuba, Flute, Oboe, Clarinet, Saxophone and Recorder to students of all ages.
Hours:
Monday – Friday from 9:00 a.m. – 8:00 p.m.
Saturday from 9:00 a.m. – 5:00 p.m. 
Sunday from 9:00 a.m. – 5:00 p.m.
View the 2017 Calendar HERE
We have the Largest and Most Qualified Teaching Faculty in Tucson who will teach you the music you want to learn!
Locally Owned and Operated Since 1999!