Congratulations to our Award-Winning Students!
Allegro School of Music is the ONLY Music School in Southern Arizona that offers the Musical Ladder System
New Students
We extend a warm welcome to the students who enrolled in Music Lessons last month!
Kaiden Martin
Camila Castro
Lily Packard
Nina Jasmine Kushner
Curtis Williams
Pamela Dean
Corri McGinnis
Ayden McGinnis
Dlyon Owens
Colin Hoover
Andres Esqueda
Julian Esqueda
Ruben Esqueda
Nick Fezzey
Amber Windle
Lilliana Fruto
Herron Britanico
Hayden Britanico
Aonna Houston
Megan Calvarese
Mark Tronziger
Sierra Staab
Alisha Peru
Chris Varela Fonseca
Santiago Varela Fonseca
Savannah Martinez
Mya Riley
Wendy Fountain
Robert Visco
Tami Visco
Anthony Visco
Carla Sales
Savannah Ramos
Lori Paolini
Rachel Dwyer
Cara Trujillo
Hector Trujillo
Kanani James
Chloe Lively
Aniyah Thomas
Josue Reyes
Gabriel Reyes
Nathan Ramirez
Sarah Kuyper
Jessica Padilla
Angelo Sandoval
Kiley Waddell-Meiers
Kailey Petelo
Michelle Nichols
Isabell Blakeman
Angelina Vargas
Jocelyn Salcido
Mattie Hall
Sophie Fiore
Audrey Fiore
Joseph Schmidt
Serena Huaraque
Carina Waggoner
Rylen Blevins
Pauline Hearne
Stefan Stealey-Euchner
Lena Lieu
Layla Keefe
David Colwell
Cristian Ornelas
Ellis Eshelman
Henry Wong
Satvika Jagata
Stew Salmon
Elan Salmon
Stella Salmon
Avi Salmon
Mridini Kandala
Elias Qurban
Tommy Myrmo
Joseph Myrmo
Carolina Figueroa
Allison Hoyt
Antonio Barcelo
Sebastian Barcelo
Avery Marshel
Luis-Andres Villa
Lucy Tillman
Nevaeh Pasiecki
Nic Guereque
Sebastian Doyle
Sarah Thompson
Mohammed Alhamadi
Lailanie Caballero
Justin Pineda
Alex Parke
Kaeph Juarez
Logan Kwong
Michael Wsol
Polly Reza
Avery Alexander
Caroline Mangan
Anna Kate Mangar
Lila Mangar
Tyra Olsen
Tyler Olson
Connor Olson
Ahmed Peiro
John Markley
Farideh Farahnak
Anna Rockwell
Art Benitez
Isaac Cutright
Brianna Roy
Angel Buelna
Robert Gonzales
Zacarias Valencia
Peyton Flores
THANK YOU!
The following students, families and organizations referred their friends to Allegro last month:
Walter Temple
Cross Middle School
Annie Delauer
Rachel Dwyer
Lena Stoltzfus
Susie Mckee
Nihar G
Marisa Borders
Isabella Plog
Lily Van Gorp
Tristan Nowak
Briel Ramirez
Noemi Gonzalez
Kelly Spicak
Marivic Ashcroft
Cyrillyn Packard
Gena Moss
July Birthdays
Happy Birthday to our Students, Teachers and Staff who are celebrating a Birthday this month!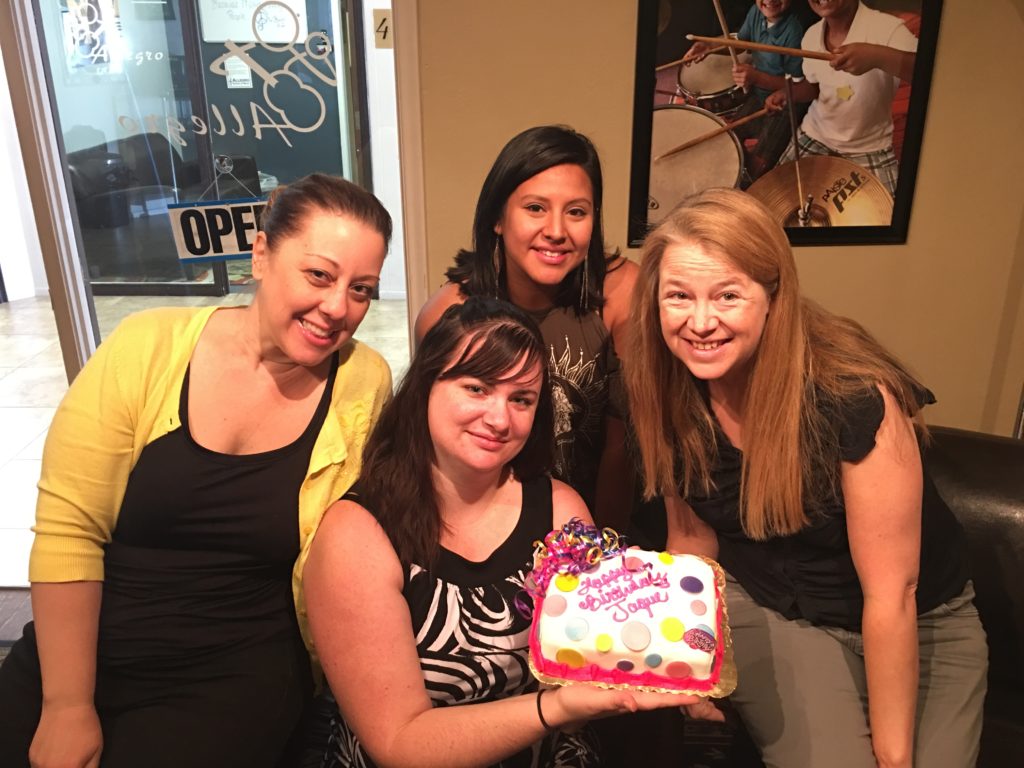 Aaron Trinh
Amy Singleton
Cara Trujillo
Caroline Mangan
Carson Lo
Chinh Tran
Chloe Lively
Chris Fonseca
Corri McGinnis
Ethan Lowry
Fredrick Turner
Henry Ramirez
Jackson Kimball
Jon Shenk
Josiah Corbin
Juliane Mayette
Kairi Kamaal
Kay Mikel
Piano Instructor-Leslie Naradikian
Mya Riley
Nalani Tinnell
Violin Instructor-Pat Rogers
Riley Beard
RJ Ochotorena
Stephen Sziklai
Tera Chacon
Zaria Ugonna
Thanks for giving us 5 Star Google Reviews this Month!
"I have been impressed with Allegro School of Music from the start! My daughter started violin lessons at age 5 and attended lessons for almost two years. Soon after her experience, she choose to explore other extra curricular activities; however, this past January she decided to return for violin lessons. When I registered her it was as if we picked up from were we ended. Customer service and instructors are great! My favorite part is the winter and spring recitals. This of course is optional, but I truly believe it is the most empowering experience for any student and love that recital's take place on a university campus, U of A. It takes lots of practice and courage to be able to perform in front of an audience. The experience not only builds students' self esteem, but I love how music adds creativity & critical thinking skills to their lives."
-Rita Ornelas, June 1, 2017
Congratulations to our Piano Students!
These students passed their annual evaluation in the Arizona Studies Piano Program!
Jordan DeLauer
Taylor Gantz
Dino Goodson
Nic Guereque
Matthew Kimball
Ananya Kumar
Avaya Kumar
Jacob Martinez
Aidan McClure
Isaac Montañez
Jack Reynolds
Pedro Rooney
Edgar Salazar-Flores
Leo Stealey-Euchner
MacKenzie Velasco
The Arizona Study Program (ASP) was started in 1958 to provide a consecutive and comprehensive plan of music study designed to motivate and encourage the student to strive for growth and excellence.
The Arizona Study Program is a 12-year graded course of study developed by ASMTA to provide for the development of musical Performance, Theory and Technique.
It is organized in terms of the twelve years of public school, with one level for each of the years a student would be enrolled in school. It requires continual work throughout the year and is evaluated each spring by a master adjudicator and a written theory test.
Learn more at http://www.asmta.org/arizonaStudyProgram.php
Allegro School of Music currently has 4 piano teachers who are certified in this program.
If you would like your child to participate next year, please inquire at the front office.
Thank You, Laura Kepner-Adney!
We are celebrating Voice and Songwriting Instructor, Laura's FIVE YEARS at Allegro.
Laura Kepner-Adney is probably best known in Tucson as a member of the indie-Americana group Silver Thread Trio and the sultry rock outfit the Cordials. Her experience, though, extends far beyond folk and rock. She trained classically at Oberlin Conservatory and has performed in genres across the musical spectrum; including jazz, pop, musical theatre, rock, folk and country.
Please join us in sharing appreciation for Laura's five years of excellence in teaching voice and songwriting at Allegro School of Music!
Vote for Us!  Deadline is July 31st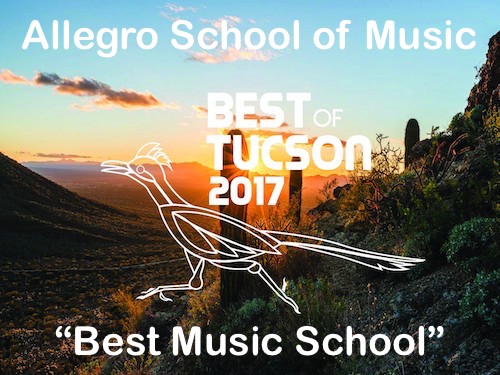 Is your child ready to rock?
Sign up NOW for June Rock Band Classes!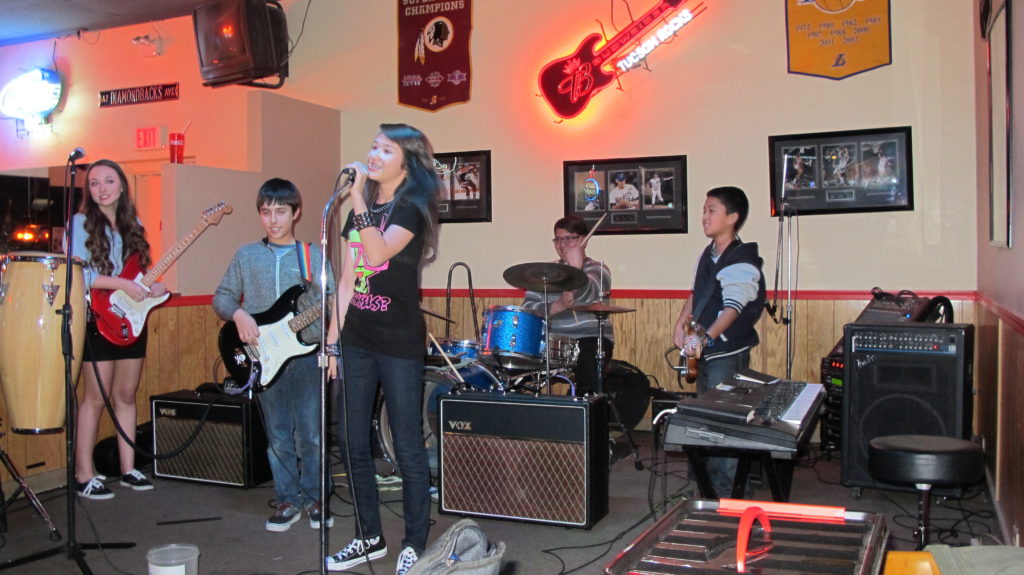 Allegro Rock Band Class students will perform in two Rock Band Concert events every October and March!
Rock Band classes are open to Allegro students ages 10-18 who are able to sing or play a few songs on their instrument. You must be enrolled in private lessons to sign up for Rock Band.
ROCK BAND  ($100.00 per month or FREE for VIP Fast-Track Students)
(4) additional hours of music training each month!
(2) Parent Open Houses/Performances every October and March
State of the art equipment
Professional rehearsal area with PA, Drums, Amps, and Keyboards.
Affordable tuition of $25.00 per 60 minute class.
LIMITED AVAILABILITY!
Neil A. Russakoff Memorial Scholarship
The Neil A. Russakoff Scholarship has been organized to provide funding for interested music students who wish to study at Allegro School of Music. Beginning in 2017, the scholarship will be offered to one student annually who exhibits a unique dedication to and love of music. During the selection process, consideration will be given to the applicant's financial need, work ethic, and musical talent. We plan to expand the Scholarship Fund and its outreach annually.
The scholarship seeks to honor and memorialize the life of Dr. Neil A. Russakoff, who died on September 23, 2016 of complications from bone marrow transplantation due to chronic lymphocytic leukemia.  Neil attended Allegro School of Music from 2002-2016 and studied the electric, acoustic and classical guitar. Neil enjoyed playing music from a wide range of styles: especially music by Doc Watson, Leo Kottke, Lynyrd Skynyrd and J.S. Bach.   Beyond his musical life, Neil was a respected pediatrician, husband, father, and avid sports fan, known for his gentle and kind spirit.
Neil continued to attend his guitar lessons during most of his 5 year battle with cancer.  His grit, work ethic and unwillingness to give up on what he loved is an inspiration that we will continue to carry with us.
It is this spirit of hard work, love of music, and integrity that we hope to nurture through the Neil Russakoff Scholarship.
2017 Winner- Kathleen Enriquez, Violin
*The deadline for 2018 scholarships is November 30th, 2017.  *Interested students may apply HERE
Wind Instrument Lessons are now available!

We are excited to announce that we are now offering music lessons for Brass and Woodwind instruments at Allegro School of Music!
This includes:  Trumpet, Cornet, Horn, Trombone, Baritone Horn, Euphonium, Tuba, Flute, Oboe, Clarinet, Saxophone, Bassoon, and Recorder.
If you would like to get started with a Brass or Woodwind instrument, please contact the office. 
Lesson spots are first come first serve, and there are currently a limited number of lesson times!
Sunday Music Lessons!
We know your schedules are busy. That's why we offer more lesson times than any music school in Tucson.
We offer quality music lessons in Piano and Keyboard, Guitar, Banjo, Mandolin and Ukulele, Bass, Voice and Singing, Violin, Viola, and Cello, Acoustic and Electric Drums, Trumpet, Trombone, Tuba, Flute, Oboe, Clarinet, Saxophone and Recorder to students of all ages.
Hours:
Monday – Friday from 9:00 a.m. – 8:00 p.m.
Saturday from 9:00 a.m. – 5:00 p.m. 
Sunday from 9:00 a.m. – 5:00 p.m.
View the 2017 Calendar HERE
We have the Largest and Most Qualified Teaching Faculty in Tucson who will teach you the music you want to learn!
Locally Owned and Operated Since 1999!