The following programs are offered in our Foothills and Eastside Tucson Locations:

GUITAR, BASS, BANJO, MANDOLIN AND UKULELE LESSONS
(for ages 5 and up)
Our guitar teachers teach rock, blues, metal, country and classical guitar lessons. We teach on electric and acoustic guitar. Beginner students can expect to work on chords, simple songs and melodies, sight reading and theory. We balance musicianship and fun by making sure that each lesson you are challenged with a new technical or theory concept, but always end with something fun such as your favorite riff or song. We use a variety of guitar method books to accomplish this and encourage students to bring CDs or their iPod to their guitar lesson to learn their favorite tunes.  READ MORE ABOUT GUITAR LESSONS>>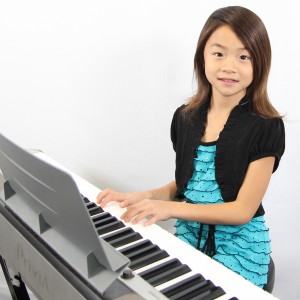 PIANO AND KEYBOARD LESSONS
(for ages 5 and up)
Our piano teachers teach a variety of styles from classical to popular music. Whether you want to learn Bach or Alicia Keys, our teachers are happy to help you become the pianist you want to be. Our piano faculty will show you the fundamentals of sight reading, technique and theory, but they will also incorporate your favorite songs into your lessons. You do not have to have a piano at home to take lessons. A simple full size electronic keyboard will suffice for the first 6 months. Our piano teachers have warm personalities and enjoy sharing their love for the piano with you.  READ MORE ABOUT PIANO LESSONS>>

SINGING/VOICE LESSONS
(for ages five and up)
Our voice teachers primarily focus on popular music. If you have always wanted to be a better rock, pop, country, jazz, gospel or R&B singer, then we have the right voice teachers for you. Voice students spend time each week doing physical exercises to improve their vocal range, ear training, breath control, vibrato, tone production, enunciation and more. All voice students set goals with their teacher to work on sounding like their favorite recording artists, or if they prefer, to develop their own unique voice. We not only teach singers, but also local TV and radio personalities who want to enhance their speaking voices. We offer voice lessons in Tucson seven days a week.  READ MORE ABOUT VOICE LESSONS>>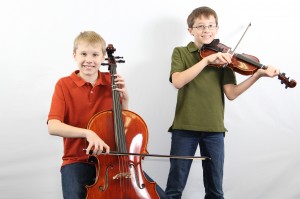 VIOLIN, VIOLA AND CELLO LESSONS
(for ages five and up)
Our violin teachers teach a variety of styles from classical violin lessons to pop music. Our teachers will show you how to read, give solid technique and theory, but they'll also incorporate songs you want to learn into the process. Our violin teachers have great personalities and make learning the violin fun.  READ MORE ABOUT VIOLIN LESSONS>>

DRUM LESSONS
(for ages 6 and up)
We have one of the most professional drum lesson rooms in Tucson, with state of the art sound proofing and two Yamaha drum kits for students to use. Our drum instructors teach rock, metal, jazz, funk, blues and many other styles. Drum language can be complex and our instructors will challenge any drummer with a wide variety of technical exercises designed to improve your speed and comfort. All drummers bring in their favorite drum parts to learn in their drum lessons and theory is encouraged. We have many drum students who play in local bands be it in rock clubs or their local churches. You do not have to purchase a drum kit to take lessons.   READ MORE ABOUT DRUM LESSONS>>
 
BRASS AND WOODWIND LESSONS
(for ages 9 and up)
We offer lessons in Trumpet, Trombone, Tuba, Flute, Oboe, Clarinet, Saxophone and Recorder. Our brass and woodwind teachers teach a variety of styles including Band, Orchestra, Jazz, Mariachi, and many others.  Most beginning lessons include work with playing the notes on your instrument along with reading music and music theory.  While the student is gaining musical knowledge he or she is also having fun with songs and melodies typical of his or her instrument.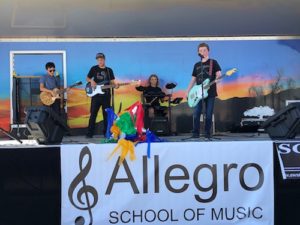 ROCK BAND CLASSES
(for ages 10-18 who have been enrolled for one year of lessons)
Rock Band Class focuses on a set list of songs chosen by the students.  You'll work weekly with an instructor who has years of experience playing in professional bands.  READ MORE ABOUT ROCK BAND CLASSES>>

LIVE PERFORMANCE COACHING
(for ages 8 and up who are currently enrolled in lessons)
Live Performance Coaching enables you to take your music from the practice room to the stage.  It includes a 60 minutes small individuals/small group session each week.  Performances are held monthly in various local venues.  LEARN MORE ABOUT LIVE PERFORMANCE COACHING>>
RATES
$31.00 per 30 minute private music lesson held once a week.
Recommended for beginners.
$62.00 per 60 minute private music lesson held once a week.
Recommended for the serious student.
There is a one time registration fee of $25.00
All fees must be paid by pre-authorized debit, pre-authorized credit cards or auto draft.
FAQ
WHAT WILL I LEARN IN YOUR MUSIC LESSONS?
We make your musical goals our number one priority in our music lessons.  For example, if your goals are to learn to play your favorite rock songs, we will not force you to learn from a classical method book.  We are here to help YOU achieve your goals!  We are experts at teaching beginner music lessons, but we also have a world class faculty that is capable of coaching you to a very high level.  Some of the skills we can teach you are:  Music Reading.  Music Theory.  Proper Instrumental Technique.  Performance Skills.  How to Practice effectively. etc…
WHAT STYLES OF MUSIC DO YOU TEACH?
You can learn almost any style in our music lessons!  We have students learning Rock, Jazz, Blues, Classical, Flamenco, Country, Metal, etc.  Let us know what you want to learn, and we'll make it happen!
ARE YOUR INSTRUCTORS QUALIFIED?
We have over 30 music teachers with music degrees from prestigious institutions (The University of North Carolina School of the Arts, The Juilliard School, University of Texas at Austin, Oberlin Conservatory, Temple University, California State University, Northwestern University, etc.).   Many of our instructors have toured professionally in the US and abroad.  In addition to their teaching credentials, our teachers have warm personalities and are friendly and reliable.  We will make your musical goals a reality!