The Neil A. Russakoff Scholarship has been organized to provide funding for interested music students who wish to study at Allegro School of Music. Beginning in 2017, the scholarship will be offered to one student annually who exhibits a unique dedication to and love of music. During the selection process, consideration will be given to the applicant's financial need, work ethic, and musical talent. We plan to expand the Scholarship Fund and its outreach annually.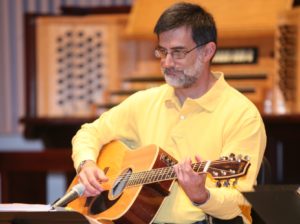 The scholarship seeks to honor and memorialize the life of Dr. Neil A. Russakoff, who died on September 23, 2016 of complications from bone marrow transplantation due to chronic lymphocytic leukemia.  Neil attended Allegro School of Music from 2002-2016 and studied the electric, acoustic and classical guitar. Neil enjoyed playing music from a wide range of styles: especially music by Doc Watson, Leo Kottke, Lynyrd Skynyrd and J.S. Bach.   Beyond his musical life, Neil was a respected pediatrician, husband, father, and avid sports fan, known for his gentle and kind spirit.
Neil continued to attend his guitar lessons during most of his 5 year battle with cancer.  His grit, work ethic and unwillingness to give up on what he loved is an inspiration that we will continue to carry with us.
It is this spirit of hard work, love of music, and integrity that we hope to nurture through the Neil Russakoff Scholarship.
2017 Winner – Kathleen Enriquez
SCHOLARSHIP APPLICATION