NEW EASTSIDE LOCATION!
Lessons will begin in January 2017.  Registration begins December 15th! 
You asked for it, and now we are delivering!
Our New Eastside Location will offer Music Lessons in Piano, Guitar, Voice, Violin, Drums, and more, 7 days a week!  Lessons will begin in January, 2017.  Registration for January will open on December 15th, 2016.  Lesson Times will go FAST!
Call (520) 274-4977 or Request info at www.allegroschoolofmusic.net to get on the wait list for January!
Celebrating 17 Years of Excellence in Tucson!
EASTSIDE
520.274.4977
eastside@allegroschoolofmusic.net
www.allegroschoolofmusic.net
6979 E Broadway Blvd #119
Tucson, AZ  85710
New Songwriting Lessons! 
With Laura Kepner-Adney!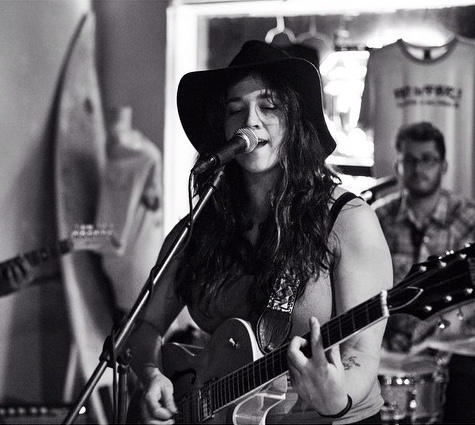 Are you looking for help on a song you just can't seem to get right?
Are you wondering how to build your first melody?
If the answer is "YES", songwriting lessons are for you!
Ages: 13 and up
Required experience: a minimum of 2 years of instrumental lessons (other than vocal lessons), OR a team of 2 with one vocalist and one instrumentalist.
Description: Songwriting students will learn the basics of song craft, then delve into its subtleties and intricacies.  Ideal for self-driven individuals 13 and up, these once-a-week lessons will guide students through a first writing experience OR help improve intermediate skills.  All genres welcome!  We focus on song form, chord structure, melody, harmony, figurative language, and exercises to help jumpstart the process.  Students will learn the value of recording and studio-preparedness and will be offered the option to make simple multi-track recordings in lessons.  Sequential lessons will help each student build a catalogue of songs.
It's EASY to get started!  Just call the Foothills Office at (520) 670-9162
Community Food Bank Food Drive
and Allegro Recitals are Dec. 11th and 18th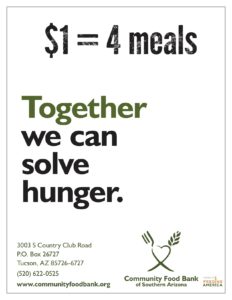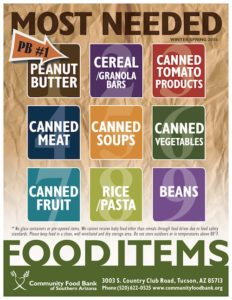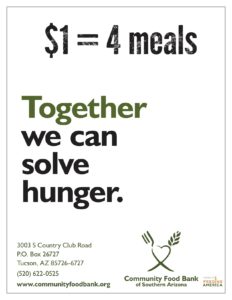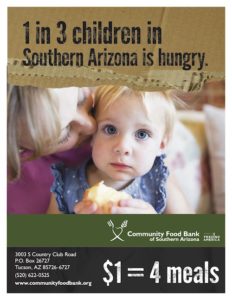 Allegro Recitals are always FREE for our students and their families!
All we ask is that EVERYONE BRING A FOOD DONATION!
Cute Baby Pics from the Office!
Congratulations to our office manager, Sami and her family on the birth of their adorable baby boy, Atlas!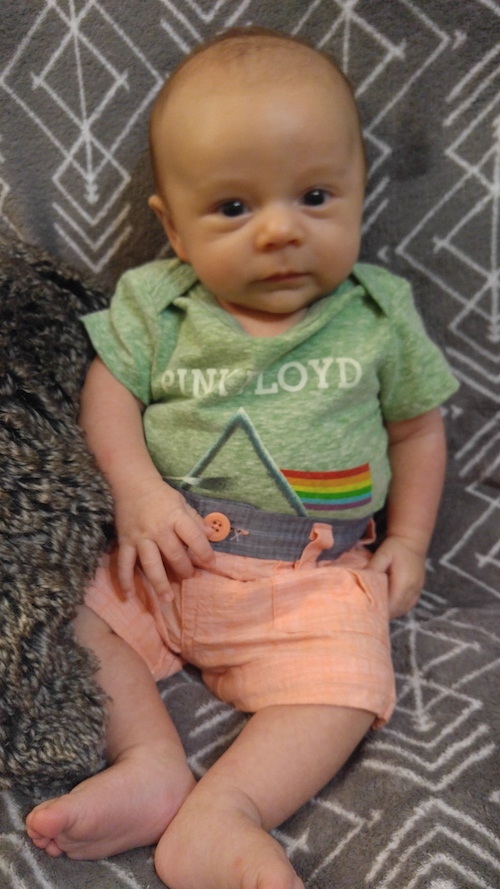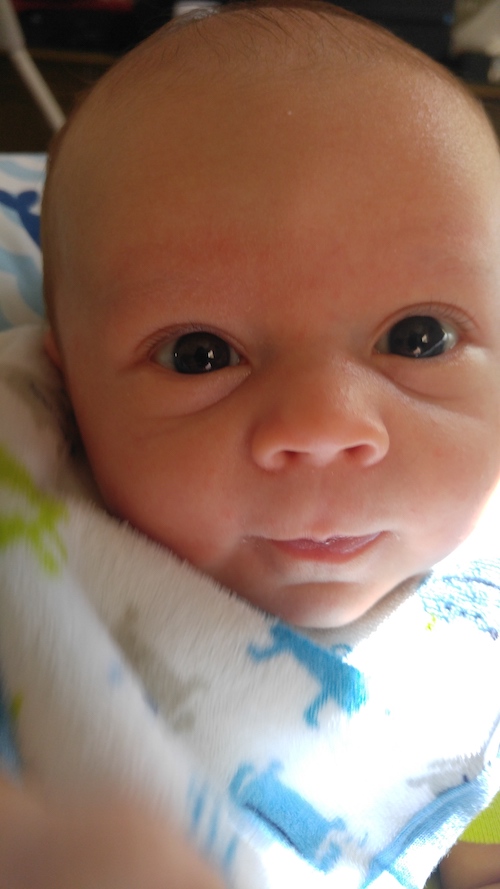 Celebrating Student Achievement The Musical Ladder System®
Allegro School of Music is the only music school in Southern Arizona that gives students the opportunity to earn special color wristband bracelets (kids and teens love them!), trophies AND certificates for passing musical tests with the Musical Ladder System®. No other music schools offer trophies and certificates.  At Allegro, we inspire our students with smiling faces by giving them full color, really cool "Musical Ladder System®" wristbands that they can show off to their friends.
More importantly when our students have a test coming up, they practice more, their parents are proud, their teachers are proud, and everybody wins!
Congratulations to Yash for earning his first Trophy! He takes guitar lessons with Shawn.
Congratulations to Ellis for earning his first trophy! He studies drums with instructor Michael!
Congratulations Evan! He earned his Vivace certificate and wristband! He studies piano with Louisa! He has been taking piano for one year and six months.
Congratulations Gwen for earning her song bird for 6 months of lessons with Shawn.
Congratulations to Shelby for earning her Prima Trophy, wristband and certificate! She has studied music at Allegro for 5 years and takes Piano Lessons with David.

Congratulations to Patty Williams, who has won a free month of lessons by checking-in to lessons at Allegro in October!
77 New Students
We extend a warm welcome to the 77  students who signed up for lessons last month!
Josie H
Daniel G
Johnathan K
Ben D
Kenyon A
Katarina B
Shayna F
Kendley A
Michael L
Raquel G
Chloe A
Sebastian D
Karina J
Frankie V
John H
Beth M
Daniel S
Fare A
Dashiell C
Mailah G
Kendal C
Avish G
Naing B
Reagan B
Yonatan P
David S
Hilary L
Sydney N
Sydney H
Kevin C
Daniel S
Caryn M
Ghazaul D
Kaya A
Molly B
Aurora W
Karla S
Cedric A
Michael D
Robert L
Amanda Markwarct
Emma A
SaMya L
Sofia L
Arinjay D
Grace C
Lauren G
Alejandro I
Eduarda V
Kenny B
Cody N
Haylegh R
Paul S
Mikayla K
Rachel F
Cruz B
Bowie W
August B
Matthew T
Omar R
Asher M
Elizabeth S
Jorge P
David K
Tess C
Anusmita D
Lucien W
Morgan S
Mary I
Sarah F
Rosie O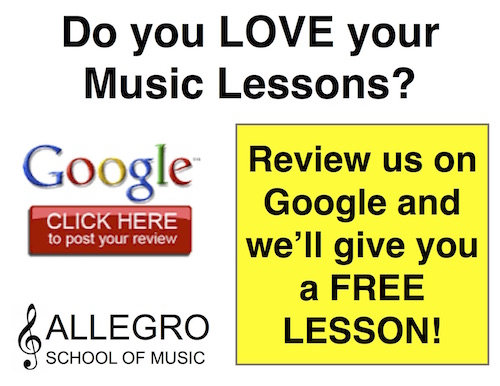 Christie Rosputni Nov 3, 2016
"I can't say enough great things about Allegro and the incredible teachers! Both of my kids take music lessons there and the experience has been so wonderful. Allegro's teachers and staff are all very friendly and helpful. They are always willing to make things work for busy family schedules. My 7 year old has been taking piano lessons with Kari and absolutely loves it. Kari is patient, thoughtful, and such an incredible teacher! Her teaching style is perfect for keeping kids focused and happy to learn. Shawn teaches my 9 year old guitar. She has made so much progress in such a short time because Shawn is such an amazing teacher. He is very good at explaining things to her and has been teaching her to play one of her favorite songs on her guitar. Both of my kids love coming to Allegro! We highly recommend it!"
Thanks for your 5 star reviews!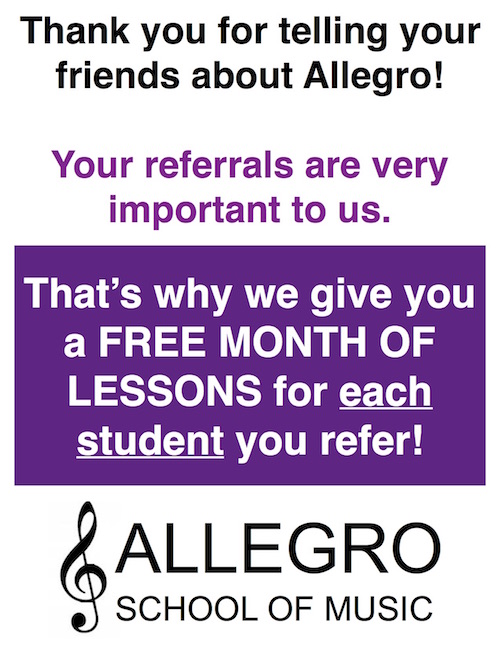 Refer a friend to Allegro, get a free month of lessons!
Our school is built on word of mouth. Thank You to the following students, families, and organizations who referred their friends in September.
Seth Mosey
Sadalla Family
Saideh Haghighi
Goodwin Family
Abbie Lee
Fletcher Music Center
Wind Instrument Lessons are now available!
We are excited to announce that we are now offering music lessons for Brass and Woodwind instruments at Allegro School of Music!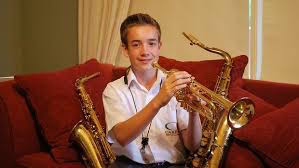 This includes:  Trumpet, Cornet, Horn, Trombone, Baritone Horn, Euphonium, Tuba, Flute, Oboe, Clarinet, Saxophone, Bassoon, and Recorder.
If you would like to get started with a Brass or Woodwind instrument, please contact the office at (520) 670-9162 ASAP.  
Lesson spots are first come first serve, and there are currently a limited number of lesson times!
Sunday Music Lessons!
We know your schedules are busy. That's why we offer more lesson times than any music school in Tucson.
We offer quality music lessons in Piano and Keyboard, Guitar, Banjo, Mandolin and Ukulele, Bass, Voice and Singing, Violin, Viola, and Cello, Acoustic and Electric Drums, Trumpet, Trombone, Tuba, Flute, Oboe, Clarinet, Saxophone and Recorder to students of all ages.
Hours:
Monday – Friday from 9:00 a.m. – 8:00 p.m.
Saturday from 9:00 a.m. – 5:00 p.m. 
Sunday from 9:00 a.m. – 5:00 p.m.