Celebrating Student Achievement The Musical Ladder System®
Allegro School of Music is the only music school in Southern Arizona that gives students the opportunity to earn special color wristband bracelets (kids and teens love them!), trophies AND certificates for passing musical tests with the Musical Ladder System®. No other music schools offer trophies and certificates.  At Allegro, we inspire our students with smiling faces by giving them full color, really cool "Musical Ladder System®" wristbands that they can show off to their friends.
More importantly when our students have a test coming up, they practice more, their parents are proud, their teachers are proud, and everybody wins!
Congratulations to Shelby for earning her Prima Trophy, wristband and certificate! She has studied music at Allegro for 5 years and takes Piano Lessons with David.
Congratulations to Yash for earning his first Trophy! He takes guitar lessons with Shawn.
Congratulations to Ellis for earning his first trophy! He studies drums with instructor Michael!
Congratulations Gwen for earning her song bird for 6 months of lessons with Shawn.
Congratulations Evan! He earned his Vivace certificate and wristband! He studies piano with Louisa! He has been taking piano for one year and six months.
It's Recital Time!
Ask your teacher if you're ready.  Sign-up Deadline is November 1st
We believe that to be a really great performer, you have to have consistent and gradual performance experience. In addition to consistent performance experience, you need to have positive performance experiences. Often, students are pushed to perform when they are not ready and this can lead to a negative performance experience. The effects of a negative performance experience may take years to overcome.  All of the teachers at Allegro stress that recitals are optional and low pressure. Students do not have to perform, but many choose to.
If you would like to perform or would like for your child to perform in our December Recitals (Sunday, December 11th and Sunday, December 18th, 2016 at the UA School of Music), here's how it works:
Please let your teacher know if you would like to perform in the December recital ASAP.
On November 1st, all teacher's will submit their lists of students who have the desire and ability to perform in the December recitals.
One of the many benefits of being an Allegro School of Music student, is that we host recitals every 6 months (May and December). 
When you perform at the recital, you really want to have something great prepared to play. It will make the recital experience a success for you that will enhance your development instead of impeding it. If you or your child are not quite ready to perform, don't worry, there's another recital right around the corner, no more than 6 months away. If you are interested in performing, please talk to your teacher asap.
*Remember: you cannot choose your recital day or time.
PICTURE DAY IS THIS SUNDAY, OCTOBER 16th!
Allegro Picture Day
When: 10/16/16 from 1-3 p.m.
Where:  Allegro School of Music
Cost:  FREE  for all current students (pictures will be available for purchase))
What to bring:  Your Instrument!
What to wear:  Whatever you want!  You can dress like a Rockstar or an Opera Diva!
How to sign up:  Call the office at 670-9162 or email us at info@allegroschoolofmusic.net or stop in.  Remember, photo day time slots are first come, first serve so SIGN UP TODAY!
Check out some of the great pictures from last year's picture day below!
The Benefits of Music Education
By Laura Lewis Brown  (Reprinted from http://www.pbs.org/parents/education/music-arts/the-benefits-of-music-education/)
Whether your child is the next Beyonce or more likely to sing her solos in the shower, she is bound to benefit from some form of music education. Research shows that learning the do-re-mis can help children excel in ways beyond the basic ABCs.
More Than Just Music
Research has found that learning music facilitates learning other subjects and enhances skills that children inevitably use in other areas. "A music-rich experience for children of singing, listening and moving is really bringing a very serious benefit to children as they progress into more formal learning," says Mary Luehrisen, executive director of the National Association of Music Merchants (NAMM) Foundation, a not-for-profit association that promotes the benefits of making music.
Making music involves more than the voice or fingers playing an instrument; a child learning about music has to tap into multiple skill sets, often simultaneously. For instance, people use their ears and eyes, as well as large and small muscles, says Kenneth Guilmartin, cofounder of Music Together, an early childhood music development program for infants through kindergarteners that involves parents or caregivers in the classes.
"Music learning supports all learning. Not that Mozart makes you smarter, but it's a very integrating, stimulating pastime or activity," Guilmartin says.
Language Development
"When you look at children ages two to nine, one of the breakthroughs in that area is music's benefit for language development, which is so important at that stage," says Luehrisen. While children come into the world ready to decode sounds and words, music education helps enhance those natural abilities. "Growing up in a musically rich environment is often advantageous for children's language development," she says. But Luehrisen adds that those inborn capacities need to be "reinforced, practiced, celebrated," which can be done at home or in a more formal music education setting.
According to the Children's Music Workshop, the effect of music education on language development can be seen in the brain. "Recent studies have clearly indicated that musical training physically develops the part of the left side of the brain known to be involved with processing language, and can actually wire the brain's circuits in specific ways. Linking familiar songs to new information can also help imprint information on young minds," the group claims.
This relationship between music and language development is also socially advantageous to young children. "The development of language over time tends to enhance parts of the brain that help process music," says Dr. Kyle Pruett, clinical professor of child psychiatry at Yale School of Medicine and a practicing musician. "Language competence is at the root of social competence. Musical experience strengthens the capacity to be verbally competent."
Increased IQ
A study by E. Glenn Schellenberg at the University of Toronto at Mississauga, as published in a 2004 issue of Psychological Science, found a small increase in the IQs of six-year-olds who were given weekly voice and piano lessons. Schellenberg provided nine months of piano and voice lessons to a dozen six-year-olds, drama lessons (to see if exposure to arts in general versus just music had an effect) to a second group of six-year-olds, and no lessons to a third group. The children's IQs were tested before entering the first grade, then again before entering the second grade.
Surprisingly, the children who were given music lessons over the school year tested on average three IQ points higher than the other groups. The drama group didn't have the same increase in IQ, but did experience increased social behavior benefits not seen in the music-only group.
Improved Test Scores
A study published in 2007 by Christopher Johnson, professor of music education and music therapy at the University of Kansas, revealed that students in elementary schools with superior music education programs scored around 22 percent higher in English and 20 percent higher in math scores on standardized tests, compared to schools with low-quality music programs, regardless of socioeconomic disparities among the schools or school districts. Johnson compares the concentration that music training requires to the focus needed to perform well on a standardized test.
Aside from test score results, Johnson's study highlights the positive effects that a quality music education can have on a young child's success. Luehrisen explains this psychological phenomenon in two sentences: "Schools that have rigorous programs and high-quality music and arts teachers probably have high-quality teachers in other areas. If you have an environment where there are a lot of people doing creative, smart, great things, joyful things, even people who aren't doing that have a tendency to go up and do better."
And it doesn't end there: along with better performance results on concentration-based tasks, music training can help with basic memory recall. "Formal training in music is also associated with other cognitive strengths such as verbal recall proficiency," Pruett says. "People who have had formal musical training tend to be pretty good at remembering verbal information stored in memory."
*Continue reading this article at: http://www.pbs.org/parents/education/music-arts/the-benefits-of-music-education/)

Congratulations to Teresa Sobolewski & Paul Brown, who have won a free month of lessons by checking-in to lessons at Allegro in September!
71 New Students
We extend a warm welcome to the 71  students who signed up for lessons last month!
Olivia R
Charlotte R
John K
Priya T
Alena H
Brian M
Rachel C
Nyhel S
Jeanette R
Nathaniel T
Flecher C
Lila C
Taylor B
Alexa S
Adelyn S
Omar G
Brian J
Robert N
Joseph C
Joshua R
Brianna A
Damira K
Elijah D
Gabriel D
Nicole Z
Gabrieel G
Ashley S
Andrew B
Brandon H
Melanie W
Chris L
Shiyu C
Angelina V
Frank G
Daiki K
Giovanie G
Maya A
Rosanna S
Carla Y
Brittany M
David B
Anthony G
Elisa E
Alex A
Emma R
Lauren R
Claribel L
Allison O
Chandler G
Emily G
Carston R
Drew C
Carina W
Jeannette S
Logan T
Valerie N
Keira N
Josie H
Victoria J
Razan A
Maryam B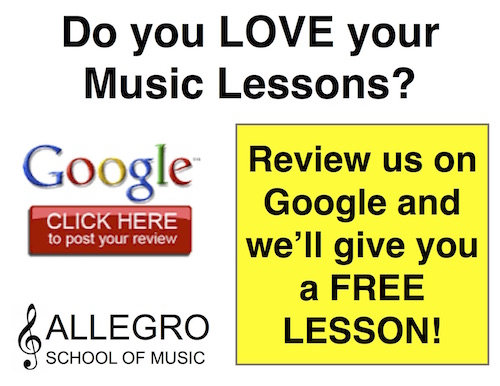 Review posted on Google+ September 19th, 2016
"Our five year old has loved her guitar lessons with Shaun at Allegro. He is calm, insightful and really great teacher for her. She is progressing and already can read music and play songs from memory. We highly recommend Allegro School of Music and plan to enrol our son when he is a little older. Great work!!!"
~Left of West Lab
Thanks for your 5 star reviews!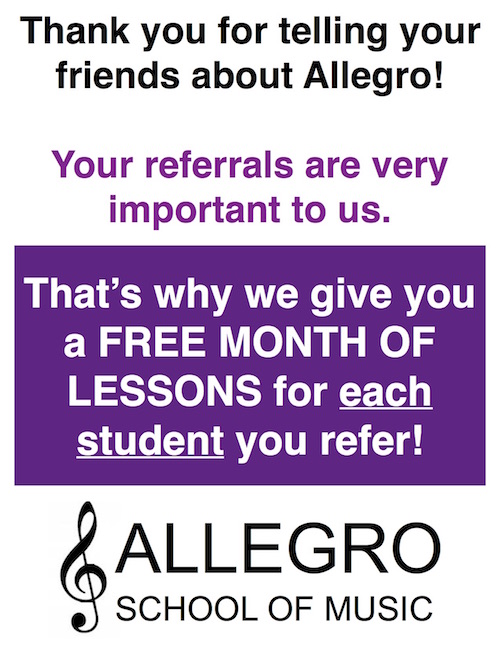 Refer a friend to Allegro, get a free month of lessons!
Our school is built on word of mouth. Thank You to the following students, families, and organizations who referred their friends in August!
Grace Corona
Pama Family
Jim Irish 
Greta Barber 
Lizette Figueroa
 Maia Hartman
 Ashia Shaloo 
Candace Del Valle 
Mercedes Ortiz
Wind Instrument Lessons are now available!
We are excited to announce that we are now offering music lessons for Brass and Woodwind instruments at Allegro School of Music!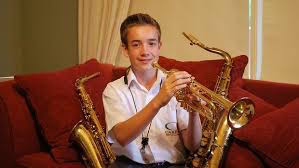 This includes:  Trumpet, Cornet, Horn, Trombone, Baritone Horn, Euphonium, Tuba, Flute, Oboe, Clarinet, Saxophone, Bassoon, and Recorder.
If you would like to get started with a Brass or Woodwind instrument, please contact the office at (520) 670-9162 ASAP.  
Lesson spots are first come first serve, and there are currently a limited number of lesson times!
Sunday Music Lessons!
We know your schedules are busy. That's why we offer more lesson times than any music school in Tucson.
We offer quality music lessons in Piano and Keyboard, Guitar, Banjo, Mandolin and Ukulele, Bass, Voice and Singing, Violin, Viola, and Cello, Acoustic and Electric Drums, Trumpet, Trombone, Tuba, Flute, Oboe, Clarinet, Saxophone and Recorder to students of all ages.
Hours:
Monday – Friday from 9:00 a.m. – 8:00 p.m.
Saturday from 9:00 a.m. – 5:00 p.m. 
Sunday from 9:00 a.m. – 5:00 p.m.