Congratulations to our Award-Winning Students!
…for passing their tests, earning their Musical Ladder™ Trophies, and sharing their music in public performances!
CLICK VIDEO TO WATCH STUDENT, HARRY LEAL'S FANTASTIC PERFORMANCE! https://www.youtube.com/watch?v=44GvbIM9UYs
Are you interested in Performing in Local and National Events?
Available to Allegro Students for ONLY $125.00 per month for weekly, 60 Minute Sessions. It's EASY to get started!  Just contact the office.
We are the ONLY music school in Southern AZ that offers live performance coaching and Rock Band Classes!
It's Recital Time!
Ask your teacher if you are ready.  Sign-up Deadline is November 1st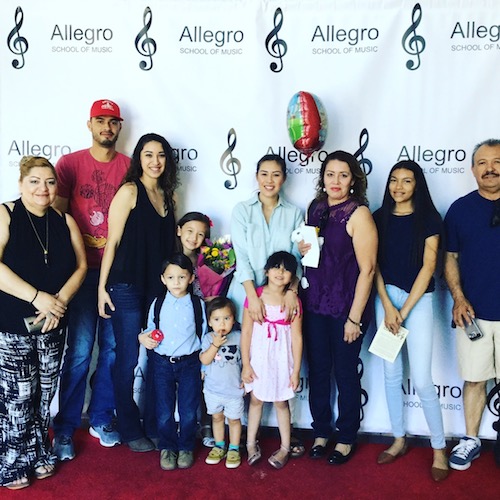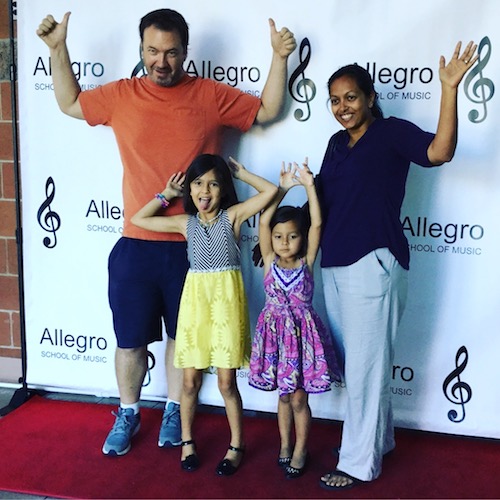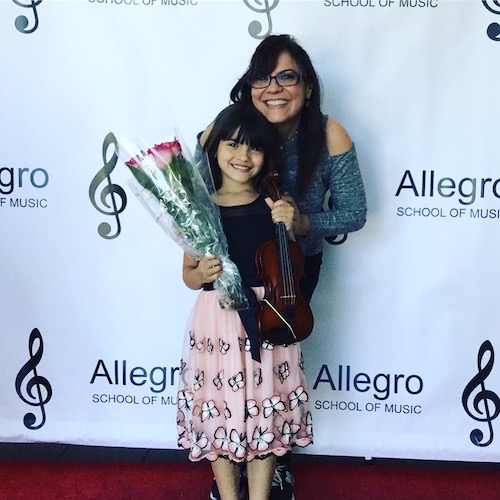 We are the ONLY Music School in Tucson who rolls out the red carpet for our students and their families in two FREE Recitals each year.  Allegro Recitals are held in the beautiful Holsclaw Recital Hall at the University of Arizona School of Music. The facilities are top notch, and all piano students get to perform on a Steinway grand piano!
Congratulations to our International Competition Winning Students!
…and congratulations to their Voice Teacher, Katie Azevedo and Live Performance Coach, Virginia Cannon!
Sign up for Picture Day!
It's FREE for all current students and it's MUCH COOLER than regular, run of the mill school pictures!
PICTURE DAY FAQ
When: 10:00 a.m. to 12:00 p.m. by appointment only Where: October 15th at Eastside Location
October 29th at Foothills Location
How do I sign up?  Call or stop by the office to sign up How do I order Pictures? The photographer will send you a link to view pictures. Orders are made directly with the photographer..  Prints are picked up at the school when you come to lessons. What do I wear? Whatever you want!  You can dress like a Rock Star or an Opera Star, it's up to you! *Photographer: Joe Ramirez.  http://area520.com
New Students
We extend a warm welcome to the students who enrolled in Music Lessons last month!
Cara Trujillo TC Leon Alexis Rajala Raquel Rajala Kaden Ganz Alyssa Lemire Isaiah Fernandez Abby Fernandez Kaylen Stoker Vinson Holck Steven Nutt Christian Nutt Marley Smith Michelle Sims Jennie Lutton Sophie Jones Elian Ruiz Erika Vasquez Vivian Ho Anna Crossett Gia Anderson Jacob Lazerus Lila Poore Owen Iverson Lexie Huerta Lily Marino Quinn Wagner John Priest Grayson Hargrove Jesus Cardova J.D. Price Eya Groves Carl Youngs Yvie Ung Ammon Linde Connor Patrick Anthony Nguyen Carston Richards Jackson Danilowitz Patrick Jacob Sophie Jacob Jaylin Peterson Zachary Pemberton Lillianna Aguilar Austin Harvey Josie Burnside Alaric Gregory Meah Gomez Leah Martin Shriya Shah Rocco Procopio Audrey Kirk Nathan Krikawa Caroline Lasch Andray Martinez Rita Garstad Joaye Annabi Elsa Annabi Chaya Annabi Cora Nathalang Judy Liebman Lenny Fimbres Santino Harper Arya Prasad Toby Ouyang Victoria Banegas Michael Garcia Jevana Procopio Jacqueline Vidaurri Taylor Ochoa Essa Ruboyianes Eva Kim Charlie Campuzano Erlinda Galindo Joe Sharp Erica Figueroa Lucky Le David Dwarka Yosef Dwarka Sarah Dwarka Maya Dwarka Jesse DeLong Dominick Green Austin Harvey Timothy Carmichael Leah Durazo Titus Foster Cindy Visser Gabriel Lima Lax Sharon Rauseo Hector Jimenez David Jimenez Natalie Dunnavant Malory Anderson Amberly Lau Lial Alodaah Aiya Rahal Lial Alodaah Clare Sorenson Abraham Sorenson Santiago Samorano-VIP Alla Alissaei Julia Seldner Aditi Karra Kyri Papas Alina Tovar Zachary Skeet Cassandra Torres
THANK YOU!
The following students, families and organizations referred their friends to Allegro last month:
Nicole Hopkins Instrumental Music Ester Leu Pamela Molly Guymon Mary Ellen Sofie Anaya Ezra Jacobs Kayla Vu Gena Moss Corbyn Clevland Regina Romero    
October Birthdays
Happy Birthday to our Students, Teachers and Staff who are celebrating a Birthday this month!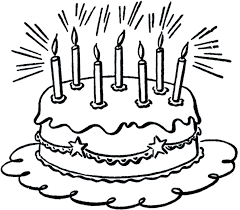 Aidan Angeles Aidan Iszler Alexandra Kaetz Alliyah Asuncion Anathis Davis Anna Rockwell Annina Lavee Anthony Gonzalez Arinjay Dutta Ayden McGinnis Beth Mercaldo Boki Chafik Carla Sales Curtis Williams Damian Martinez Dave Kashak Efrain Ulloa – Piano Instructor Elizabeth Saffer Ella Smerz Emilia Roacha Esequiel Gonzales Eva O'Brien Eya Groves Gavan Taraba Isaac Cunningham Jace Vogt Jackson Bailey – String Instructor Jacob Lazarus Janous Enriquez Jazmyn Martin Jeremy Eldridge Joaquin Hintz John Leach Joyce Ben – Office Manager Julian Esqueda Kristine Goodwin Lacy Crouch Liberty Jagow Logan Taraba Mark Beres Miles Quigg Min Jeong Kim – Piano Instructor Norah Jacob Peter Harley Priya Lee Seth Vietti – Drum Instructor Titus Foster Wade Johnson Zakari Salman  
Thanks for giving us 5 Star Google Reviews this Month!
Sebastian Antonio Gonzalez 10/11/2017 ★★★★★ I have taken vocal lesson with Lori for three months now and it has been such a great experience. Lori is always very helpful and kind every class. She always has an amazing attitude every time I've worked with her. Also even though I've come into class wanting to sing a new song; she's prepared and always finds the songs I want to sing. Randi Beach 10/01/2017 ★★★★★ All of the instructors are amazing! You can't go wrong! 🙂 Maria Baca 09/20/2017 ★★★★★ Tommy is fabulous! He has been my son's guitar teacher for 6 years. He really gets to know the students well and he keeps up with their interests and the type of music they want to play. Tommy is extremely friendly, reliable and cool to be around.
Thank You Johnny and Candice!   
Join us in celebrating our expert, experienced teachers!
Join us in celebrating our expert, experienced teachers!

Johnny Rodriguez, Guitar Johnny started playing guitar when he was 12. He started out playing blues, moved on to heavy metal and then moved on to jazz, classical and flamenco. Johnny studied musical theory and played in jazz combos through high school and college. He teaches all styles of guitar and specializes in flamenco, neo-classical shred, legato and 3 note per string speed pentatonic scales and modern fusion rock. He enjoys teaching children and adults of any age.  
October Teacher Anniversaries
Johnny Rodriguez, Guitar – 2 Years Candice Sierra, Piano – 1 Year
THANK YOU
 for sharing your passion, your skill and your dedication with our students!
Allegro School of Music has the largest and most qualified teaching faculty of any private music school in Southern Arizona
Thank You, Joyce! 
One of the best parts about taking music lessons at Allegro School of Music is our exceptional office staff.  They are here to help you seven days a week, and they also facilitate a much of the daily operations of the school. Our Office Managers take care of all of our teachers' scheduling and keep their studios full of new students.  They help facilitate the Musical Ladder Program.  They even keep the schools clean!  Our Managers are invaluable to our daily operations. We are celebrating Joyce' two year anniversary at Allegro this month! Please stop in and let Joyce know how much you appreciate her and also wish her a Happy Birthday!  
Is your child ready to rock?
Sign up NOW for September Rock Band Classes!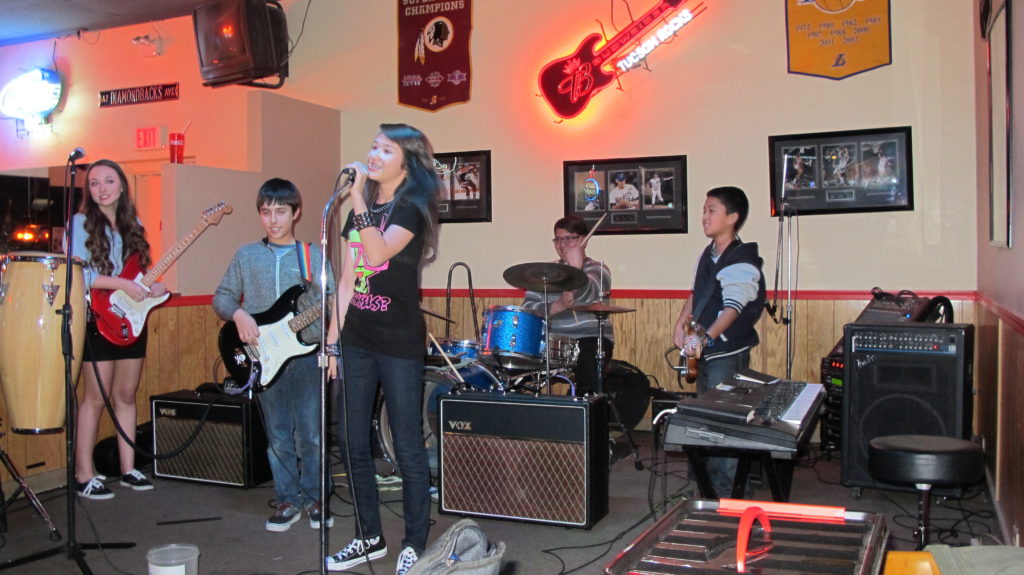 Allegro Rock Band Class students will perform in two Rock Band Concert events every October and March!
Rock Band classes are open to Allegro students ages 10-18 who are able to sing or play a few songs on their instrument. You must be enrolled in private lessons to sign up for Rock Band. ROCK BAND  ($100.00 per month or FREE for VIP Fast-Track Students)
(4) additional hours of music training each month!
(2) Parent Open Houses/Performances every October and March
State of the art equipment
Professional rehearsal area with PA, Drums, Amps, and Keyboards.
Affordable tuition of $25.00 per 60 minute class.
LIMITED AVAILABILITY!
Neil A. Russakoff Memorial Scholarship
The Neil A. Russakoff Scholarship has been organized to provide funding for interested music students who wish to study at Allegro School of Music. Beginning in 2017, the scholarship will be offered to one student annually who exhibits a unique dedication to and love of music. During the selection process, consideration will be given to the applicant's financial need, work ethic, and musical talent. We plan to expand the Scholarship Fund and its outreach annually. The scholarship seeks to honor and memorialize the life of Dr. Neil A. Russakoff, who died on September 23, 2016 of complications from bone marrow transplantation due to chronic lymphocytic leukemia.  Neil attended Allegro School of Music from 2002-2016 and studied the electric, acoustic and classical guitar. Neil enjoyed playing music from a wide range of styles: especially music by Doc Watson, Leo Kottke, Lynyrd Skynyrd and J.S. Bach.   Beyond his musical life, Neil was a respected pediatrician, husband, father, and avid sports fan, known for his gentle and kind spirit. Neil continued to attend his guitar lessons during most of his 5 year battle with cancer.  His grit, work ethic and unwillingness to give up on what he loved is an inspiration that we will continue to carry with us. It is this spirit of hard work, love of music, and integrity that we hope to nurture through the Neil Russakoff Scholarship.
2017 Winner- Kathleen Enriquez, Violin
*The deadline for 2018 scholarships is November 30th, 2017.  *Interested students may apply HERE
Wind Instrument Lessons are now available!
We are excited to announce that we are now offering music lessons for Brass and Woodwind instruments at Allegro School of Music! This includes:  Trumpet, Cornet, Horn, Trombone, Baritone Horn, Euphonium, Tuba, Flute, Oboe, Clarinet, Saxophone, Bassoon, and Recorder. If you would like to get started with a Brass or Woodwind instrument, please contact the office.  Lesson spots are first come first serve, and there are currently a limited number of lesson times!
Sunday Music Lessons!
We know your schedules are busy. That's why we offer more lesson times than any music school in Tucson.
We offer quality music lessons in Piano and Keyboard, Guitar, Banjo, Mandolin and Ukulele, Bass, Voice and Singing, Violin, Viola, and Cello, Acoustic and Electric Drums, Trumpet, Trombone, Tuba, Flute, Oboe, Clarinet, Saxophone and Recorder to students of all ages.
Hours:
Monday – Friday from 9:00 a.m. – 8:00 p.m. Saturday from 9:00 a.m. – 5:00 p.m.  Sunday from 9:00 a.m. – 5:00 p.m.
View the 2017 Calendar HERE
We have the Largest and Most Qualified Teaching Faculty in Tucson who will teach you the music you want to learn!
Locally Owned and Operated Since 1999!