It's Recital Time!
Ask your teacher if you're ready.  Sign-up Deadline is November 1st
We believe that to be a really great performer, you have to have consistent and gradual performance experience. In addition to consistent performance experience, you need to have positive performance experiences. Often, students are pushed to perform when they are not ready and this can lead to a negative performance experience. The effects of a negative performance experience may take years to overcome.  All of the teachers at Allegro stress that recitals are optional and low pressure. Students do not have to perform, but many choose to.
If you would like to perform or would like for your child to perform in our December Recitals (Sunday, December 11th and Sunday, December 18th, 2016 at the UA School of Music), here's how it works:
Please let your teacher know if you would like to perform in the December recital ASAP.
On November 1st, all teacher's will submit their lists of students who have the desire and ability to perform in the December recitals.
One of the many benefits of being an Allegro School of Music student, is that we host recitals every 6 months (May and December). 
When you perform at the recital, you really want to have something great prepared to play. It will make the recital experience a success for you that will enhance your development instead of impeding it. If you or your child are not quite ready to perform, don't worry, there's another recital right around the corner, no more than 6 months away. If you are interested in performing, please talk to your teacher asap.
*Remember: you cannot choose your recital day or time.
ONLY 10 Spots left!
Allegro Picture Day!
When: 10/16/16 from 1-3 p.m.
Where:  Allegro School of Music
Cost:  FREE  for all current students (pictures will be available for purchase))
What to bring:  Your Instrument!
What to wear:  Whatever you want!  You can dress like a Rockstar or an Opera Diva!
How to sign up:  Call the office at 670-9162 or email us at info@allegroschoolofmusic.net or stop in.  Remember, photo day time slots are first come, first serve so SIGN UP TODAY!
Check out some of the great pictures from last year's picture day below!

Celebrating Student Achievement The Musical Ladder System®
Allegro School of Music is the only music school in Southern Arizona that gives students the opportunity to earn special color wristband bracelets (kids and teens love them!), trophies AND certificates for passing musical tests with the Musical Ladder System®. No other music schools offer trophies and certificates.  At Allegro, we inspire our students with smiling faces by giving them full color, really cool "Musical Ladder System®" wristbands that they can show off to their friends.
More importantly when our students have a test coming up, they practice more, their parents are proud, their teachers are proud, and everybody wins!
$60.00 OFF ENDS 09/30/16!

Congratulations to Sonia F., who has won a free month of lessons by checking-in to her lessons at Allegro in August!
New Students
We extend a warm welcome to the 69  students who signed up for lessons last month!
Eve K
Dev K
Jade H
Katjtek Z
Jeannelle H
Jose A
Jose R
Miles A
Archer D
Haeley K
Rae A
Dominic G
Eli M
Leanna C
Trinity C
Faith C
Faith C
Francisco G
Luke C
Dino G
Leif N
Ruby L
Michael G
Mary M
Antoinette O
Anna O
Jimena I
Amira M
Erldion S
Hava K
Noor H
Chase C
Nic G
Ivy T
Davina F
Isabelle G
Jackie K
Jayceona R
David F
Gavin L
Emma L
Alliyah A
Dixielyn H
Hayden T
Alexzander E
Joseph W
Katherine W
Caroline W
Grace C
Ambrose E
Aliana S
Madison S
Steve L
Serena H
Rosalinda M
Roland M
Natalia V
Luna V
Carlos F
Gregg S
Noelle K
Duncan O
Alva Z
Alva Z
Kayden N
Emily G
Justin F
Bethany Z
Asheribel Z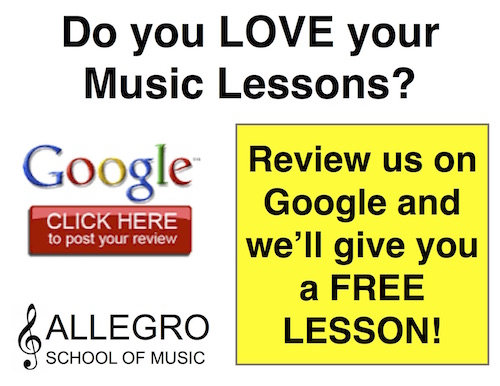 Review posted on Google+ August 27th, 2016
"Instructor Joe Deraad has been amazing. He is my son's trumpet instructor. Joe is incredibly patient and helpful and gives my son immediate feedback, focusing not only in music theory and understanding, but also on tone quality as it relates to emboichure, and the importance of proper posture.We are very pleased."
~Judith B
Thanks for your 5 star reviews!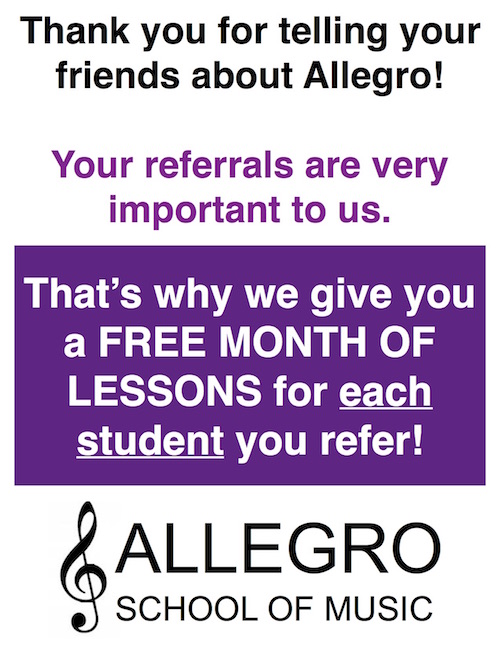 Refer a friend to Allegro, get a free month of lessons!
Our school is built on word of mouth. Thank You to the following students, families, and organizations who referred their friends in August!
Kieran L
Cross Family
Jerry B
Sharon F
Erica C
Helena Y
Max C
Evie M
Wind Instrument Lessons are now available!
We are excited to announce that we are now offering music lessons for Brass and Woodwind instruments at Allegro School of Music!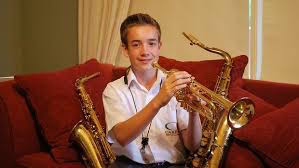 This includes:  Trumpet, Cornet, Horn, Trombone, Baritone Horn, Euphonium, Tuba, Flute, Oboe, Clarinet, Saxophone, Bassoon, and Recorder.
If you would like to get started with a Brass or Woodwind instrument, please contact the office at (520) 670-9162 ASAP.  
Lesson spots are first come first serve, and there are currently a limited number of lesson times!
Sunday Music Lessons!
We know your schedules are busy. That's why we offer more lesson times than any music school in Tucson.
We offer quality music lessons in Piano and Keyboard, Guitar, Banjo, Mandolin and Ukulele, Bass, Voice and Singing, Violin, Viola, and Cello, Acoustic and Electric Drums, Trumpet, Trombone, Tuba, Flute, Oboe, Clarinet, Saxophone and Recorder to students of all ages.
Hours:
Monday – Friday from 9:00 a.m. – 8:00 p.m.
Saturday from 9:00 a.m. – 5:00 p.m. 
Sunday from 9:00 a.m. – 5:00 p.m.