Sign up for Picture Day!
It's FREE for all current students and it's MUCH COOLER than regular, run of the mill school pictures!
PICTURE DAY FAQ
When: 10:00 a.m. to 12:00 p.m. by appointment only
Where: October 15th at Eastside Location
October 29th at Foothills Location
How do I sign up?  Call or stop by the office to sign up
How do I order Pictures? The photographer will send you a link to view pictures. Orders are made directly with the photographer..  Prints are picked up at the school when you come to lessons.
What do I wear? Whatever you want!  You can dress like a Rock Star or an Opera Star, it's up to you!
*Photographer: Joe Ramirez.  http://area520.com
Congratulations to our International Competition Winning Students!
…and congratulations to their Voice Teacher, Katie Azevedo and Live Performance Coach, Virginia Cannon!
Are you interested in Performing in Local and National Events?
Sign up for Live Performance Coaching at Allegro this Year with Virginia Cannon!
Virginia's positive energy provides a nurturing and empowering experience for each student while providing LIVE PERFORMANCE OPPORTUNITIES in the community.
Virginia Cannon has acquired over 16 years of experience in the music industry working as a consultant, talent manager, and trusted advocate for singers, songwriters, and performers.
Her clients have received five "Hollywood Music in Media" Nominations.  Out of over 100 nominees, two of Virginia's clients were chosen to be two of the six nominees to perform at the awards show in Hollywood.  https://www.hmmawards.com/
Two of Virginia's clients auditioned for an acting/singing role for a Matty B music video competing with 125 other kids.  Both girls made it to the top 10.
Since arriving in Tucson, Virginia coached with two Allegro Students for a competition in New York City in July.  8 year old Leah Martin took 1st place in the singing category under the guidance of Allegro School of Music Vocal Coach, Katie Azevedo.  Virginia worked with Leah on her live performance skills and audition skills for the song.
"VIRGINIA CANNON PRESENTS!"  was a popular singer/songwriter showcase in Nashville which she hosted for over 8 years. There, she brought hit songwriters and emerging songwriters together weekly. Her beloved shows continue in Tucson, AZ at Monterey Court Café and Studios on the third Thursday of each month.
Available to Allegro Students for ONLY $125.00 per month for weekly, 60 Minute Sessions.
It's EASY to get started!  Just contact the office.
New Students
We extend a warm welcome to the students who enrolled in Music Lessons last month!
Duncan O'Connell
Zoe Soto
Maya Athey
Amberly Lau
Emma Almeidai
Jessica Padilla
Talia Mogul
Adina Mogul
Isabella Yurkanin
Hayden Talattof
Livia Aronson
Joseaphina Hall
Alana Leonard
Mandy Leonard
Anna Kwong
John Wright
Ethan Burnside
Ayva Gregory
Albano Mitev
Asa Beach
Daisy Kalvert
John Dehnert
Jack Watson
Ella Koschwanez
Daisy Kalvert
Hazen Jackson
Nicole Hopkins
Jan Kerrigan
Mina Rowe
Roman Nasif
Calliope Predick-Sulton
Cassaandra Torres
Garyson Banks
Adelyn Sommers
Alexa Sommers
Kiana Minor
Santino Harper
Nathan Ballenger
Christian Arizaga
Leah Arizaga
Crystal Williams
Anne Eddy
Rina Tashima
Shannen Salut
Gustavo Dabdoub
Morgan Lessard
Christopher Morales
Essa Ruboyianes
Nia Ruboyianes
Cassandra Sillik
Ricky Schlussel
Louis Nye
Mark McGuire
Joshua Siahaan
Honey Castellanos
Julianne Bansil
Jace Vogt
Eden Baker
Quinn Harrington
Marjorie Eskay-Auerbach
Carling Meister
Alex Negrete
Daneth Hollahan
Michal Williams
Kajtek Zreda
Shayla Nichols
Daniel Huang
Kayla Vu
Annette Ricci
Shelley Ward
Hugh Harris
Brianna Mildebrandt
J.D. Price
Naomi Weinberg
Timothy Ignacio
Kerry Lanour
Hayden Duncan
Ava Vandermolen
Naomi Weinberg
Damian Madaras
Cole Madaras
Laura Lakey
Abby Appell
Elle Appell
Isaac Cunningham
Gavin Rainey
Gavin Pederson-Goodrich
Danica Rivera
Cameron Smith
Lila Poore
Fidel Urias
Sophia Dodd
Alisandra Flores
Raymon Flores
AJ Gallo
Troy Allen
Karina Dozier
Aaron Araiza
Kierra Harrison
Diane Tooroian
THANK YOU!
The following students, families and organizations referred their friends to Allegro last month:
Kerry Lanour
Cyrille Packard
Meagan A.
Erica Solomon
Instrumental Music Center
Washborn family
Wendi Mogul
Martha Ruiz
Alliyah Asuncion
Angela Costilla
Crocket Dennis
Marco Ruiz
Cindee Reynolds
Craig H. Wisnom
Libby Axen
Reese Garcia
August Birthdays
Happy Birthday to our Students, Teachers and Staff who are celebrating a Birthday this month!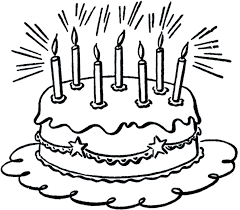 Gavin Pederson-Goodrich
Hayden Britanico
Liliana Castro
Oli Rivera
Vivian Ho
Melissa Hanis
Kerry Lanour
Sarah Kate Barton
Elian Ruiz
Moshe Foster
Troy Allen
Jayden Pancost
Tami Visco
Audrey Judnich
Andrea Reeder
Annette Ricci
Daisy Kalvert
Eva Kim
Rita Garstad
Trysten Church
Johnathan Kelley
Gabriel Lima Lax's
Emma Buban
Joshua Shiahaan
Rowan Clark
Ariah Ramirez
Elizabeth Temple
Sophia Anaya
Anita Anderson
Alaric Gregory
Carrie Pearce -Voice/Piano teacher
Laura Boschma-Cello, Viola and Violin Teacher
Tommy Dominick-Guitar and Rock Band Instructor
Dave Miller- Drum Teacher
Kristin Parra – Office Manager
Thanks for giving us 5 Star Google Reviews this Month!
"Great lessons for my kids' first week! They loved it!
-Sasha Flores September 4th, 2017
"We love this place… They have helped my child learn how to play and love music. Highly recommended."
-Jessica Ochoa September 1, 2017
"The staff and instructors are all very nice and welcoming. My instructor is so friendly and encouraging which helps me a lot."
-Annette Ricci September 6th, 2017
Thank You Shawn, Elizabeth, Laura and Chad!   
Join us in celebrating our expert, experienced teachers!

Shawn Kebler (2015 Allegro Teacher of the Year)
is a seasoned performer and guitar teacher. Originally from Wyoming, where he was one of the most highly regarded teachers and performers in the state, Shawn is in more demand now than ever. Kebler began playing guitar at the age of 11 and has been a member of many bands through the years. At the young age of 15 he had already performed in multiple venues from Colorado to Montana. Kebler earned his Diploma with the world renowned faculty at the prestigious Players School of Music in Clearwater, Florida. He has studied and played with such jazz greats as Ronnie Bedford and Bob Mintzer. Shawn has been a featured soloist at the WY Governor's Arts Award's and is a three time recipient of The Outstanding Soloist Award at the UNC Greeley Jazz Festival in Colorado. He enjoys teaching a multitude of styles including jazz, rock, and classical. Shawn believes music is the gateway to the inner consciousness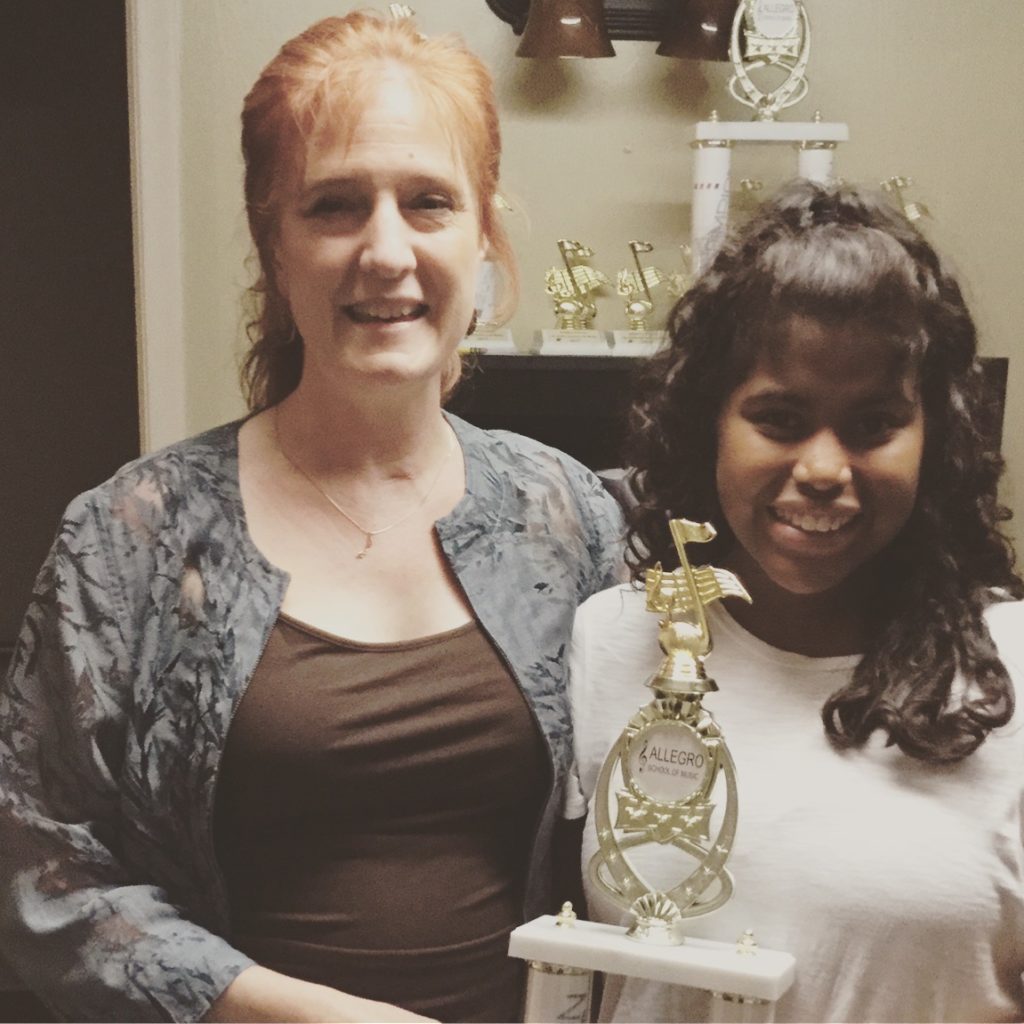 Soprano, Elizabeth Wells,
holds a Master of Music degree from Northwestern University and her Bachelor of Fine Arts-Music degree from the University of Arizona, a scholarship recipient at both institutions. Sought after as both a teacher and singer, she began her professional career immediately after completing her degree work and held a full studio of singers in the Chicago area, both privately as well as through the Lehman School of Performing Arts and the Chicago Public School District. After five years in Chicago she relocated to Los Angeles where she held a full private studio and continued her professional performing career for more than seven years. Recently, Elizabeth has returned to her home town of Tucson to continue her music career after many years in the San Francisco area where she was active in the area of classical music leadership in addition to performing and teaching professionally. With more than fifteen years of teaching experience, Elizabeth has produced students who work professionally in opera, pop, rock, world music, and musical theater. Skilled in the area of recording production, she has overseen more than a dozen albums performed by her student.  As a performer, she has performed all across the United States and in Italy in the areas of opera, oratorio, art song and has had parts written for her voice in world premiere works. She has sung more than thirty-five different operatic roles in more than one hundred performances with companies ranging from the Chicago Lyric Opera & Arizona Opera to South Bay Opera & Opera San Luis Obispo. As a recitalist her versatility ranges from all-French programs to American women composers. She is admired by her audience for possessing a beautiful lyrical voice with great technical precision and a stage presence that is intensely engaging.
September Teacher Anniversaries
We would like to show our appreciation for  these teachers, who have a combined 14 years of experience teaching private music lessons at Allegro School of Music!
Shawn Kebler, Guitar – 7 Years
Elizabeth Wells, Voice – 4 Years
Laura Boschma, Strings – 2 Years
Chad Vietti, Guitar – 1 Year
THANK YOU
 for sharing your passion, your skill and your dedication with our students!
THIS IS YOUR LAST CHANCE TO SAVE $55.00 OFF OF YOUR FIRST MONTH OF MUSIC LESSONS!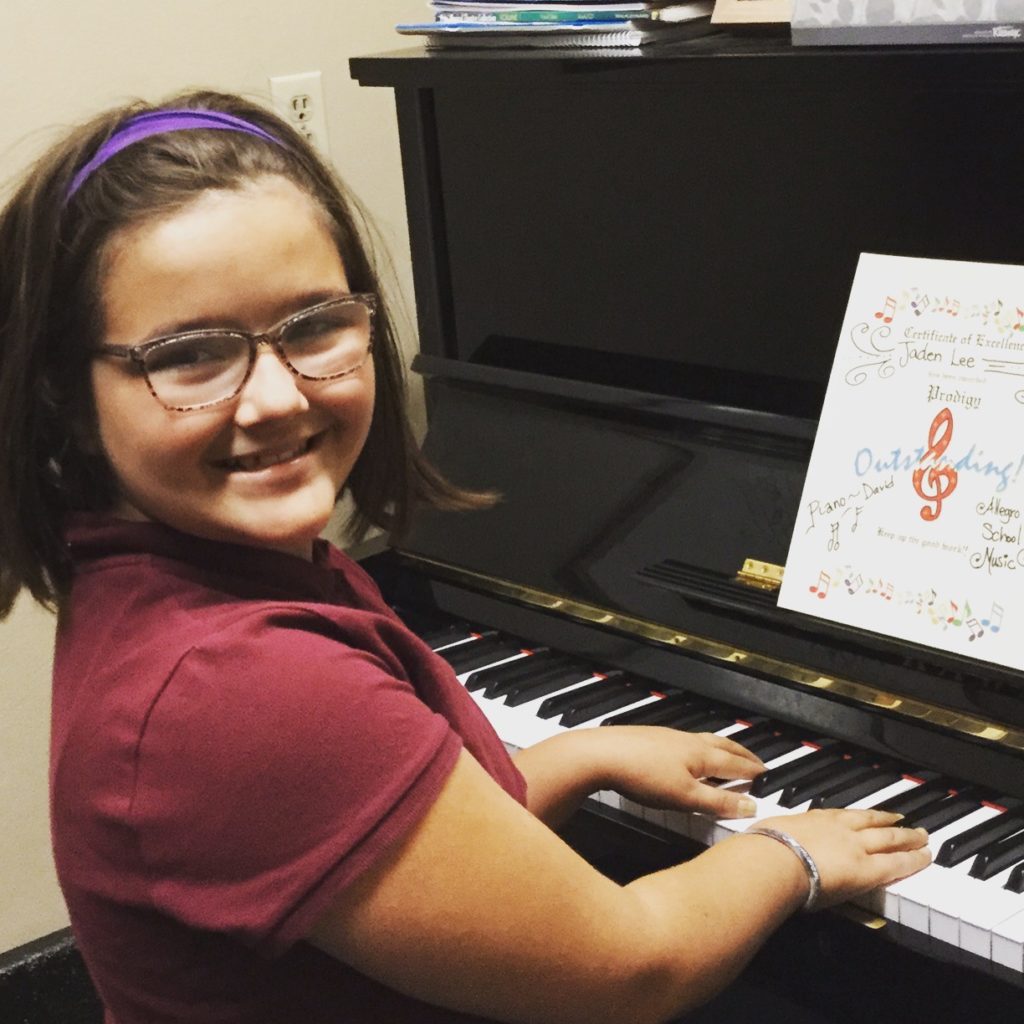 Dream Big!  Learn Music.
$55.00 OFF EXTENDED UNTIL SEPTEMBER 30th, 2017!
Is your child ready to rock?
Sign up NOW for September Rock Band Classes!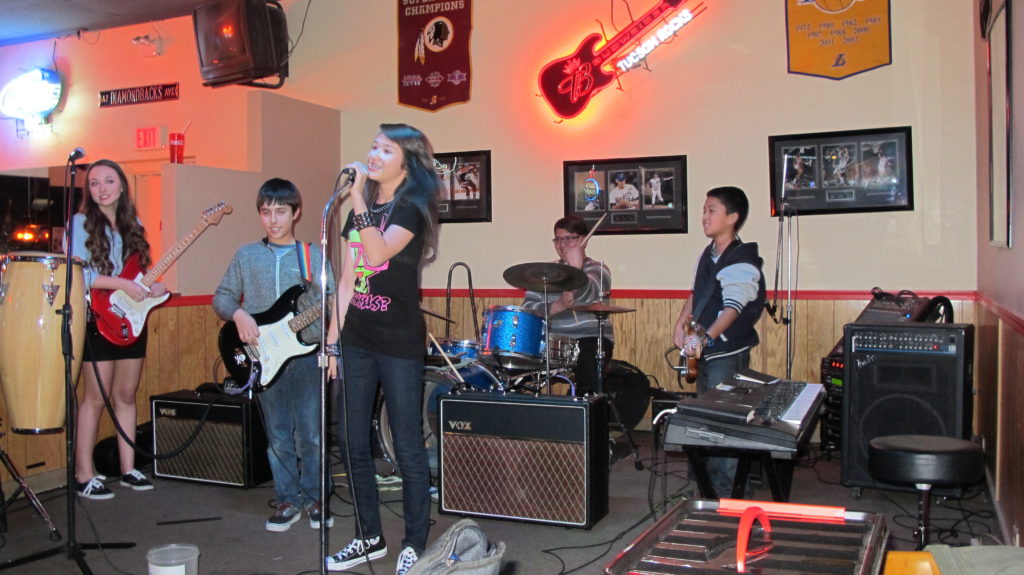 Allegro Rock Band Class students will perform in two Rock Band Concert events every October and March!
Rock Band classes are open to Allegro students ages 10-18 who are able to sing or play a few songs on their instrument. You must be enrolled in private lessons to sign up for Rock Band.
ROCK BAND  ($100.00 per month or FREE for VIP Fast-Track Students)
(4) additional hours of music training each month!
(2) Parent Open Houses/Performances every October and March
State of the art equipment
Professional rehearsal area with PA, Drums, Amps, and Keyboards.
Affordable tuition of $25.00 per 60 minute class.
LIMITED AVAILABILITY!
Neil A. Russakoff Memorial Scholarship
The Neil A. Russakoff Scholarship has been organized to provide funding for interested music students who wish to study at Allegro School of Music. Beginning in 2017, the scholarship will be offered to one student annually who exhibits a unique dedication to and love of music. During the selection process, consideration will be given to the applicant's financial need, work ethic, and musical talent. We plan to expand the Scholarship Fund and its outreach annually.
The scholarship seeks to honor and memorialize the life of Dr. Neil A. Russakoff, who died on September 23, 2016 of complications from bone marrow transplantation due to chronic lymphocytic leukemia.  Neil attended Allegro School of Music from 2002-2016 and studied the electric, acoustic and classical guitar. Neil enjoyed playing music from a wide range of styles: especially music by Doc Watson, Leo Kottke, Lynyrd Skynyrd and J.S. Bach.   Beyond his musical life, Neil was a respected pediatrician, husband, father, and avid sports fan, known for his gentle and kind spirit.
Neil continued to attend his guitar lessons during most of his 5 year battle with cancer.  His grit, work ethic and unwillingness to give up on what he loved is an inspiration that we will continue to carry with us.
It is this spirit of hard work, love of music, and integrity that we hope to nurture through the Neil Russakoff Scholarship.
2017 Winner- Kathleen Enriquez, Violin
*The deadline for 2018 scholarships is November 30th, 2017.  *Interested students may apply HERE
Wind Instrument Lessons are now available!

We are excited to announce that we are now offering music lessons for Brass and Woodwind instruments at Allegro School of Music!
This includes:  Trumpet, Cornet, Horn, Trombone, Baritone Horn, Euphonium, Tuba, Flute, Oboe, Clarinet, Saxophone, Bassoon, and Recorder.
If you would like to get started with a Brass or Woodwind instrument, please contact the office. 
Lesson spots are first come first serve, and there are currently a limited number of lesson times!
Sunday Music Lessons!
We know your schedules are busy. That's why we offer more lesson times than any music school in Tucson.
We offer quality music lessons in Piano and Keyboard, Guitar, Banjo, Mandolin and Ukulele, Bass, Voice and Singing, Violin, Viola, and Cello, Acoustic and Electric Drums, Trumpet, Trombone, Tuba, Flute, Oboe, Clarinet, Saxophone and Recorder to students of all ages.
Hours:
Monday – Friday from 9:00 a.m. – 8:00 p.m.
Saturday from 9:00 a.m. – 5:00 p.m. 
Sunday from 9:00 a.m. – 5:00 p.m.
View the 2017 Calendar HERE
We have the Largest and Most Qualified Teaching Faculty in Tucson who will teach you the music you want to learn!
Locally Owned and Operated Since 1999!